Russian specialists rebuild Syrian railroad to enable vital aid deliveries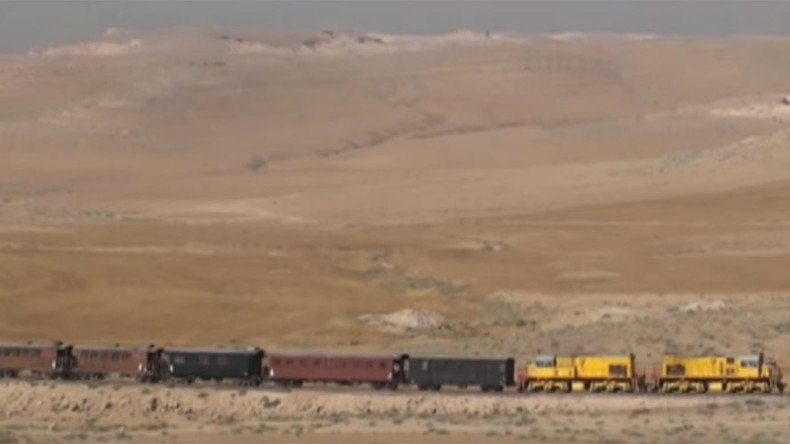 For the first time in years, the Syrian government will be able to deliver humanitarian aid to parts of the population in desperate need, by using a railroad segment that has been restored by Russian forces.
The railway network in Syria has largely ceased to function during the civil war. On Sunday, with the help of Russian specialists, the Syrian government sent its first locomotive to the Latakia province via a restored 65km stretch of track that runs from the port of Tartus to the sea town of Jableh.
Distribution of aid via the restored track will cut the delivery time in half compared to the current road route, which is lined with dangers.
"Humanitarian cargo weighing 27 tons arrived by sea. It was loaded onto railway transport and will be delivered to Jableh, where it will be distributed locally among Syrians who are most affected by the fighting," said Colonel Aleksandr Gubanov, a spokesman for the Russian center for reconciliation of opposing sides in Syria.
The resurrection of the first section of the railroad network was made possible after Russian specialists "set up loading and unloading stations and picked [intact] cars to carry both humanitarian cargo and construction materials" along the Tartus-Jableh stretch, said Colonel Aleksandr Dimitrenko.
"We look forward to the resumption of rail services and to further cooperation with the Syrian side," he added.
Prior to 2011, the population of Latakia stood at 1.3 million, but more than 1.6 million people have fled to the province since the Syrian war began. Now many of them are in dire need of humanitarian aid.
With the resumption of railway deliveries refugees will have the opportunity to receive humanitarian aid packages, which typically include sugar, rice, pasta, canned fish and meat, sacks of flour, and drinking water.
"The Syrian people are fighting for five years against terrorists. Russia helps not only in the military and humanitarian spheres, but also restores civilian infrastructure," Mudar al-Araj, director of the railways in Tartus, told TASS.
The Syrians, al-Araj says, now hope that Russia will help them restore other parts of the rail network, namely to Homs, which has been destroyed by terrorists in the five-year civil struggle. Prior to the war the railway extended 2,423km.
You can share this story on social media: