Poland's claim that Egypt sold Mistral warships to Russia for €1 outrages France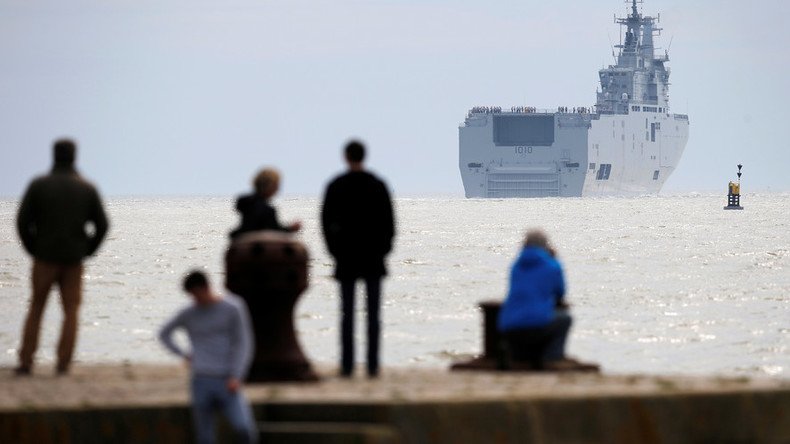 The French defense minister lashed at his Polish counterpart for claiming that Egypt had resold French-built amphibious assault ships initially intended for Russia to the Russian Navy. Franco-Polish relations have soured over a failed defense deal.
Polish Minister of National Defense Antoni Macierewicz has claimed that the two Mistral ships that France sold to Egypt after it broke a deal with Russia under pressure from its NATO allies were secretly resold to Russia for a token price of €1.
The Polish minister didn't cite a source for the story that he told Polish legislators in October, which he apparently picked from Russian social media, where the rumor of a secret deal between Cairo and Moscow was circulating last month.
The rumor was never confirmed, though some sources say Egypt and Russia are reportedly negotiating a deal under which Russia would sell attack helicopters to be flown from the French-made ships.
Macierewicz's allegations were made amid a bitter row between France and Poland over a $3.5-billion deal for 50 French-made Airbus Caracal helicopters that Warsaw abruptly cancelled early last month. Reporting on France's defense budget to the National Assembly on Thursday, Defense Minister Jean-Yves Le Drian criticized his Polish counterpart both for the dropped helicopter deal and recirculating the Mistral rumor.
"We are pretty angry at Poland for cancelling the deal to buy French helicopters. This is a bad way to do things," the French minister said, as cited by Les Echos daily.
He assured French lawmakers that the Mistral ships are in Egypt, saying he had personally toured one with his Egyptian counterpart in the Bay of Alexandria.
"This is what we came to. The situation is pretty tense," he said, adding that the confrontation "would not prevent France from fulfilling its obligations to Poland."
Poland's previous liberal government initiated a major overhaul of the country's military and defense industry to better comply with NATO standards.
While the conservatives that took power after the October 2015 election support the modernization in general, they have questioned many of the decisions taken by their predecessors. The helicopter deal was reportedly dropped because the new government favors US producer Lockheed Martin, which has factories in Poland. The move resulted in French President Francois Hollande cancelling a scheduled visit to Warsaw, as well as a series of accusations coming from officials in both countries.
Macierewicz, who is among the hardliners in the new Polish cabinet, seems to be found of conspiracy claims. For example, he believes the crash of a plane carrying Poland's president and dozens of Polish conservative politicians near Smolensk in 2010 was actually an assassination that the cabinet of Donald Tusk conspired to cover up with the Russian government.
READ MORE: 'Harmful for Poland': Tusk slams new govt conspiracy theory on presidential plane crash in Russia

The Polish minister's remarks about the French arguably pale in comparison to those made by his deputy, who dismissively said that the Poles had taught the French "to eat with a fork a couple of centuries ago" after France revoked Poland's invitation to the Euronaval 2016 defense expo in Paris amid the helicopter deal row.
You can share this story on social media: