'Highly dangerous' terror suspect arrested in Berlin is alleged ISIS member – prosecutors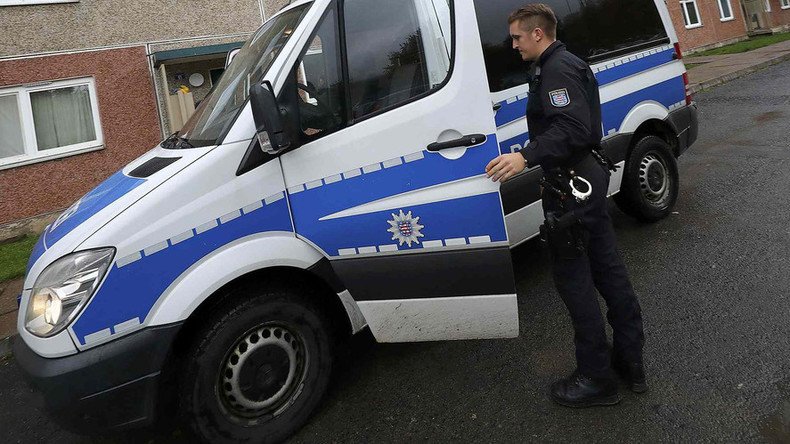 A 27-year-old Syrian man arrested by Berlin police, who has been described as a "highly dangerous" terror suspect in the German media, is suspected of being a member of Islamic State (IS, former ISIS/ISIL), the German Federal Prosecutor's Office says.
The alleged terrorist, who has reportedly lived in Germany since 2015, was arrested in Berlin's Schöneberg district, police wrote on Twitter.
READ MORE: German police carry out 13 anti-terrorism raids across 5 federal states
"[The] man…. is suspected of being a member of a foreign terrorist organization," police said.
Der nach eigenen Angaben 27-jährige Syrer hält sich seit 2015 in Deutschland auf und wurde in einer Whg. in #Berlin#Schöneberg festgenommen

— Polizei Berlin (@polizeiberlin) November 2, 2016
According to Focus Online newspaper, the man is considered "highly dangerous."
READ MORE: Manhunt for Chemnitz 'bomb plot' suspect: German police looking for 22-yo Syrian-born
A spokeswoman for the Federal Prosecutor's Office later confirmed to German news agency dpa that he is suspected of being an Islamic State member.Later the same day, the Federal Prosecutor's Office confirmed that the suspect had received instructions from an Islamic State contact in Syria to carry out a terrorist attack in Germany, Reuters reported.
According to German Tagesspiegel daily, the suspect was actually born in Tunisia, but came to Germany last year claiming to be a Syrian and filed an asylum request.
Meanwhile, the German media has reported that no explosives or traces thereof were found in the suspect's apartment. Police also reportedly did not find any evidence indicating that the suspect was planning to carry out a terrorist attack on any specific target.
Die Welt named the suspect as Ashraf Al-T, citing its sources.
Berlin's security services describe the man as "a second Jaber Albakr." Albakr was a 22-year-old Syrian suspected of plotting a bomb attack on Berlin's airport, who was arrested in October of this year and committed suicide while in prison.
Germany has been on high alert in recent months. In July of this year, the country faced three lone-wolf assaults. In all cases, the perpetrators either had direct links to IS or were inspired by radicalism.
READ MORE: Dead German terror suspect 'scouted big Berlin airport, spoke to IS contact' – reports
In September, two improvised bombs went off in the city of Dresden that targeted a mosque and an international conference center. No one was injured, although the mosque was severely damaged.
German Interior Minister Thomas de Maiziere warned in September that there were more people in Germany who could potentially commit terrorist acts than ever before. According to the minister's data, more than 520 people in Germany are capable of committing "unexpected" and potentially "high-profile" terrorist attacks inspired by Islamism.
In October German police conducted several raids in five federal states in response to an "imminent terror threat."
You can share this story on social media: