Manhunt for Chemnitz 'bomb plot' suspect: German police looking for 22-yo Syrian-born
German police launched a large-scale search operation after traces of explosives were found in an apartment in the city of Chemnitz. The suspect is still at large while at least three people have been detained.
Saxony police discovered "highly sensitive explosives" in the apartment of the suspected blast plotter, according to their official Twitter.
We found explosives in the affected apartment. It is therefore necessary to carry on further evacuation measures at the area.

— Polizei Sachsen (@PolizeiSachsen) October 8, 2016
A large scale security operation was launched after police received intelligence about a terror plot being planned in the city on Friday night, according to police.
Authorities are now looking for the suspect – a Syrian-born man named Jaber Albakr, aged 22. They released a photo of a dark-haired man wearing a hooded sweatshirt and said he was last seen wearing similar clothes.
"We have to assume that the person is dangerous," an official representative of the Saxony police, Tom Bernhardt, said in a statement on Saturday.
The spokesman said it is yet unclear whether the wanted man had come to Germany as a refugee.
The suspect is believed to be connected to Islamic extremist groups, according to dpa news agency's security sources. But police only confirmed he was "known"' to German intelligence.
Chemnitz's central train station was temporarily closed for the manhunt. Two people were detained, and their luggage is being examined, police said.
A third person was detained in the city center, according to the police spokesman.
All of them are believed to be either accomplices or acquaintances of Jaber Albakr. Their identities are yet to be determined.


The initial operation in the Fritz Heckert district was wrapped up, but now police say they need to evacuate more people as a precaution.
Earlier police reported "a static threat situation in the Fritz Heckert district" and deployed a large task force on the ground.
Zur Zeit haben wir eine statische Gefährdungslage im Fritz-Heckert-Gebiet in #Chemnitz, #C0810 und sind mit starken Einsatzkräften vor Ort

— Polizei Sachsen (@PolizeiSachsen) October 8, 2016
Police say the possible blast was averted; force apparently was used to enter the suspicious apartment.
"The explosion heard was an access measure by the police. A relevant person could not be found," law enforcers tweeted amidst the operation.
Local media said at least one building was evacuated and that police arrived in scores armed with machine guns.
Chemnitz is the third-largest city in Saxony.
The state in eastern Germany has been the target for a number of explosions. Two improvised bombs went off in the city of Dresden less than two weeks ago that targeted a mosque and an international conference center. No one was injured, according to police, although the mosque was severely damaged.
READ MORE: Aiding terrorist group: German court convicts men who sent Ahrar Al-Sham $145,000 in supplies
Police have raided several towns across Saxony looking for alleged Islamists suspected of planning terror attacks in recent months.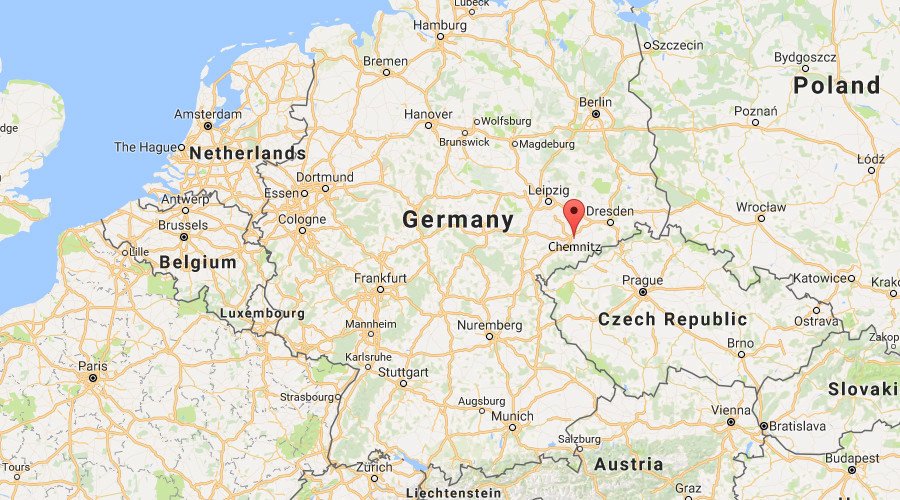 You can share this story on social media: