Aiding terrorist group: German court convicts men who sent Ahrar Al-Sham $145,000 in supplies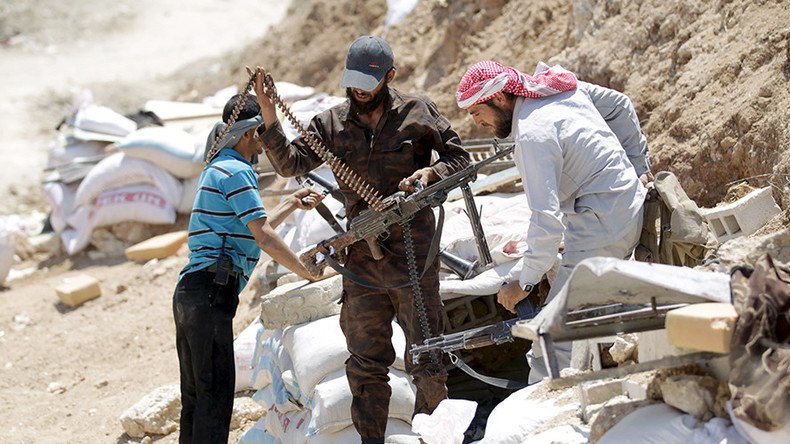 In the first decision of its kind, a German court convicted four supporters of hardline Islamist group Ahrar Al-Sham, who supplied munitions and equipment worth thousands of dollars to Syria, of aiding terrorism. It may serve a precedent for further trials.
Fighting the Syrian Army does not make "rebels" less accountable for "violence against civilians, the siege of cities and taking citizens hostage," the presiding judge of the Higher Regional Court in Stuttgart, Hartmut Schnelle, said in support of his decision to back terrorism charges, as cited by Stuttgarter Zeitung.
Describing the radical group as "a foreign terrorist organization" that seeks to portray itself as a member of the so-called moderate opposition in Syria, the court cited the group's public acknowledgments of mounting suicide attacks and preparing assaults on Alawite villages.
"[The suspects], in particular, knew the objectives and actions of Ahrar al-Sham and shared them as their own religious conviction," Schnelle said, according to SWR newspaper.
The court has sentenced the ringleader, Kassem El-R, aged 33, to three and a half years behind bars. The Lebanese man is believed to have organized a supply route via which he provided militants with 7,418 boots, 6,026 jackets, 108 shirts, five ambulances and two radio scanners from spring 2013 till early 2014.
Thirty-two-year-old Ali F., who has both Lebanese and German citizenship, received a suspended sentence of two years. He is accused of arranging the transfer of the Syria-bounded goods from Germany to Turkey and then to Syria.
Another Lebanese citizen, Hassan A.S., 30, was also handed a suspended sentence of one year and nine months for allocating €4,000 ($4,458) to pay for the equipment.
READ MORE:270 civilians killed in terrorist shelling in Syria as Al-Nusra regroups - Russian MoD

The total cost of the supplies has been estimated to be €133,000 ($148,000), SWR reports.
Fifty-year-old Nuran B., a German citizen, who had allegedly made a fortune selling the goods from his Amstetten-based army surplus firm, was given a two-year suspended sentence. The court took into account his claim that he had not known who the supplies would end up with, believing they were intended for the Free Syrian Army, a US-backed rebel alliance.
The federal prosecutor in the case, Christian Monka, hailed the decision to recognize Ahrar Al-Sham as a terrorist group, which is the first such ruling in Germany. Monka hopes it would pave the way for similar rulings.
"This pilot verdict will make further trials easier for us," he said.
The same day, a court in the western German city of Dusseldorf, sentenced a former Islamic State (IS, formerly ISIS, ISIL) fighter, Kerim Marc B., to six years and nine months in prison. The man had pledged allegiance to Islamic State emir Abu Bakr al-Baghdad and was fighting alongside the terrorists in 2013 to 2014 before he was arrested in Turkey in 2015, the Local reports.
Moscow has long been insisting that Ahrar Al-Sham should be included in the list of terrorist organizations and excluded from the original ceasefire agreement, brokered by Russia and US in February, as well as by intra-Syrian talks.
"Jaysh al-Islam and Ahrar ash-Sham are criminal terrorist organizations that should be liquidated, and their criminal activity stopped," Russian Foreign Minister Sergey Lavrov said in December 2015.
The Russian Defense Ministry says the group, which it believes to be close to the former Al-Nusra Front, responsible for most ceasefire violations.
Late in September, Syrian UN envoy Bashar Ja'afari revealed the group might be planning a chemical attack with white phosphorus on civilians with the aim of blaming it on the Syrian government.
You can share this story on social media: