'Offense to history & art': Facebook censors Caravaggio's nude cupid painting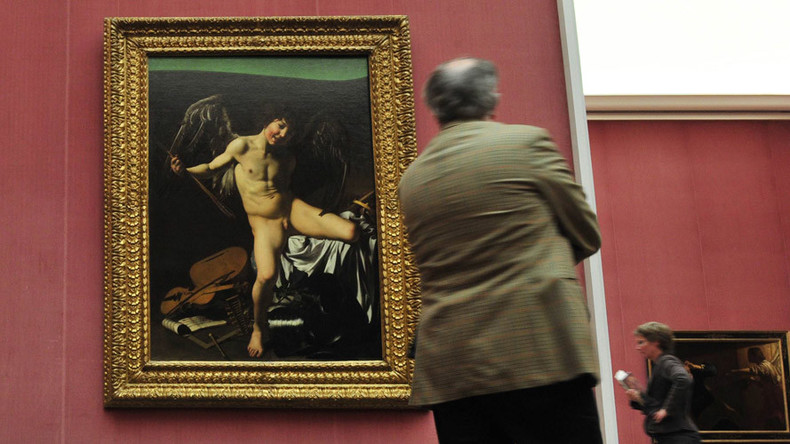 Facebook has briefly censored Caravaggio's "Amor vincit omnia" (Love conquers all) in the latest case of classical art suffering from the social giant's anti-nudity policy.
The photo of the painting accompanied by some background information was posted by Milan-based art dealer Hamilton Moura Filho. The post was quickly removed while his account was suspended for a few hours.
"This is an offense to history and culture," Filho told La Repubblica Milano, commenting on the episode.
Italy was apparently disturbed by the incident as La Repubblica's story on Filho's case got 2,000 shares on Facebook.
"It is a very important work for the history of art and I want to file a lawsuit to protest against this episode of censorship," the frustrated art dealer said.
Legal action, however, is unlikely to take place since Facebook was quick enough to apologize for blocking Filho's account that was soon unfrozen.
The 17th century painting that has found itself in the middle of controversy depicts a nude cupid – a young boy wearing dark eagle wings – surrounded by a variety of scattered objects, including musical instruments.
Cupid, a son of Mars and Venus and a god of attraction, desire and erotic love, is most commonly portrayed without any clothes on – the practice Facebook is uncomfortable with.
The social media giant brought a significant change to its Community Standards page back in March 2015, paying special attention to hate speech, bullying, harassment and, more importantly, nudity.
Critics say that Facebook's efforts to deal with bullying or hate speech have failed, while the nudity cencorship probably works too well, with pieces of art regularly becoming a target.
According to the updated guidelines, photos of genitals, fully exposed buttocks, female breasts, in case they include nipples, are not allowed.
"People sometimes share content containing nudity for reasons like awareness campaigns or artistic projects. We restrict the display of nudity because some audiences within our global community may be sensitive to this type of content – particularly because of their cultural background or age," says the Nudity section of Facebook's Community Standards page.
Just recently leader of Danish Alternative Party and former Culture Minister Uffe Elbaek has experienced same-style crackdown from Facebook after having posted two nude female images on his page. The photos showed a female nude sculpture and a famous 1969 shot of Danish artist Lene Adler Petersen who walked nude through the Copenhagen Stock Exchange.
The politician who was banned from the social network condemned the decision. The ban, however, turned out to be temporary.
In another example, Facebook banned the iconic photo of a Vietnamese girl running away from her village that was destroyed by a napalm attack. The shot was posted by popular Norwegian author and journalist Tom Egeland. The ban triggered a national outcry with even Norway Prime Minister urging Facebook to reconsider.
The Little Mermaid, the symbol of Copenhagen, also fell victim to Facebook's nudity policies. The photo posted by Danish politician Mette Gjerskov to advertise a blog post on TV2's website was deleted for "too much bare skin or sexual undertones."