German Air Force faces 2-year downturn in combat capability – leaked memo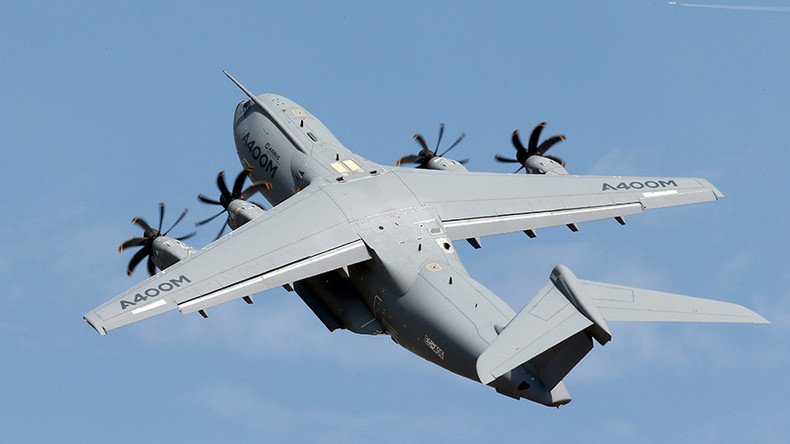 Germany is experiencing "serious problems" with its military aircraft procurement, which may soon result in an inability to maintain the proper level of combat capability, according to the army's document obtained by media.
The memo, according to Welt am Sonntag, originated from a source in the military and was later passed to the defense committee of the parliament.
It states that the German Army (Bundeswehr) is facing problems with the replacement of its Transal (Franco-German C-160 transport aircraft) currently used by the German Air Force. The planes are set be put out of service in 2021, with the initial plan by the country's military suggesting they should be succeeded by Airbus A400M transport planes.
However, due to ongoing technical malfunctions and delayed delivery of A400M, German Defense Minister Ursula von der Leyen had to seek alternatives.
The provisional replacement for the C-160 aircraft should have been the Lockheed Martin C-130J Super Hercules (a four-engine turboprop US military transport aircraft). Yet according to the leaked memo, there is a new problem here, even if the US-made planes are delivered by 2021.
"Taking into account the approval procedures laid down in the Bundeswehr, operational use... is unlikely to be expected until 2023," the leaked document states. As a result, this can lead to "a temporary gap in the demand coverage, and possibly to restrictions in order fulfillment" by the Bundeswehr.
Another setback for the use of the C-130J is a problem with the French side. Earlier in October, von der Leyen signed with her French counterpart Jean-Yves LeDrian a memo of intent to share a military base in France and station the C-130J planes there.
France ordered four C-130Js from US aviation company Lockheed Martin in January, and Germany has been looking to acquire four to six of the same aircraft and base them in France, von der Leyen said.
The document, cited by Welt am Sonntag, criticizes the Bundeswehr's cooperation with France, saying "France does not have the appropriate technical staff or equipment for aircraft maintenance." Such cooperation could also lead to "long-term dependency" on Paris, because German pilots would have to rely on the French service staff on the ground.
Germany did not receive the first Airbus A400M aircraft until December 2014, after a year-long delay. The total delay in delivery is estimated to be 107 months, with "at least" 1.47 billion euros ($1.6 billion) in additional cost to be expected. The quality of the aircraft also leaves much to be desired, with persistent problems with the A400M's engine.
"We are now facing a serious challenge for production and customer deliveries of the A400M due to new, unexpected issues on the engine propeller gearbox. It's very frustrating but we'll have to work through this with our engine partners," Tom Enders, Airbus Group Chief Executive Officer, said in a press-release in late April.
In August, it was announced that the purchase of urgently needed replacement engine parts is currently "not feasible," the publication reported. The German Defense Ministry concluded that there is a risk of "unavailability of individual aircraft for several weeks."
In July, the German Defense Ministry received reports from other countries citing incidents with their A400M aircraft, which allegedly includes evaporation of fuel in the cockpit. This "immediately leads to malaise, nausea and irritation of the eyes of the crew and passengers," among other potential long-term health problems. Airbus is believed to have taken measures.
Whether these are effective is still unclear, Welt am Sonntag reported, saying that improvements to the A400Ms are "nowhere in sight." Last year, an Airbus A400M military transport plane crashed outside Seville, southern Spain, killing four test crew and prompting the UK and Germany to suspend A400M flights.
The A400M Atlas was developed for Spain, Belgium, Britain, France, Germany, Luxembourg, and Turkey – at a cost of 20 billion euros ($22 billion), making it Europe's single biggest arms contract, Reuters reported. It entered service in 2013 after a delay of more than three years.
You can share this story on social media: