Pentagon promises to 'investigate' reports of Iraqi school bombing in US-supported Mosul siege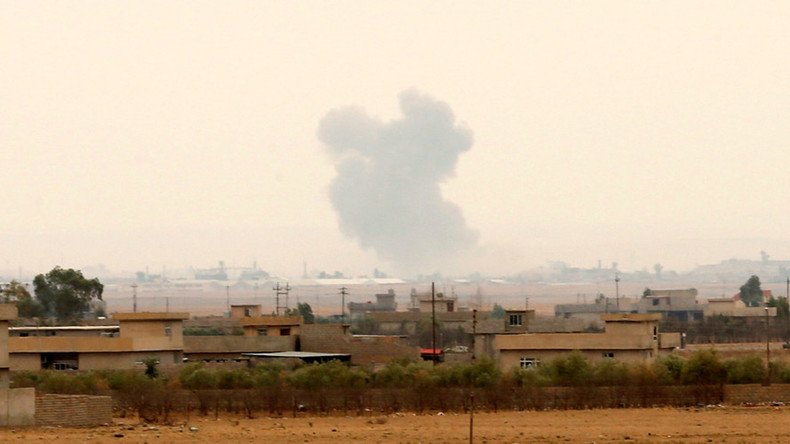 The Pentagon has promised to investigate information offered by the Russian General Staff on the alleged bombing of an Iraqi school by US warplanes taking part in a siege of the Islamic State-held city of Mosul.
"We are aware of the Russian allegations and will investigate to determine if these allegations are credible," the spokesman for Operation Inherent Resolve said, according to Sputnik.
The spokesman added that US forces are committed to "stringent targeting processes and procedures aimed to minimize risks to non-combatants."
Operation Inherent Resolve (OIR) is the codename for the American military intervention against Islamic State (IS, formerly ISIS/ISIL) in both Iraq and Syria. US Army XVIII Airborne Corps is running the US-led participation on the ground for the Combined Joint Task Force – Operation Inherent Resolve (CJTF-OIR).
On Friday, the Russian Defense Ministry said intelligence indicated that US planes had targeted a school near Mosul, Iraq, leaving many civilians dead and wounded.
"There are new cases of [US-led] coalition's airstrikes on civilian targets. On October 24, the US Air Force's tactical aircraft launched missile and bomb strikes on a school building in the village of Tall Kayf, 14km north of Mosul at 3:35am. As a result of the strike, there are dead and wounded," said Lt. Gen. Sergey Rudskoy, chief of the Russian General Staff Main Operational Directorate.
According to a strike report from CJTF-OIR, the "coalition forces" conducted five strikes in the vicinity of Mosul on that day and, amongst numerous terrorist positions and weapons caches, hit "an ISIL-held building." Only military targets are named in the report with no mention of any civilian casualties.
This is not the first time Moscow has voiced concerns about civilian casualties and refugee numbers, both of which have increased following the start of the Mosul operation on October 17, under Washington's watchful eye. Earlier this week, the Russian military noted that US-led planes attacked an all-girl school in the vicinity of the IS-besieged city on October 21. That strike was also not mentioned in the US report.
One week into #Mosul operation, all objectives met thus far, and more coalition airstrikes than any other 7-day period of war against #ISIL.

— Brett McGurk (@brett_mcgurk) October 24, 2016
Yet all this time the US is actively participating and monitoring operations on the ground. In fact, Special Presidential Envoy for the Global Coalition to Counter ISIL Brett McGurk spent three days in Iraq this week advising military and Iraqi government officials.
Besides visiting Kurdish fighters in hospital, McGurk even took the time to review the administrative plan for Mosul after Iraq regains control of its second-largest city.
But the liberation of the city will come at a hefty price, as weapons being deployed in the offense by the coalition of Iraqi troops and loyal militias, including reported use of white phosphorus, can hardly be called precision weapons.
As Human Rights groups continue to warn against dire consequences of the Mosul offensive, the Pentagon admitted of unleashing thousands of missiles on Mosul and vicinity of the city.
READ MORE: Amnesty warns against using white phosphorus in Mosul siege 'unless absolutely necessary'
"Since the campaign for Mosul started, the coalition has delivered almost 2,500 close air support bombs and missiles, artillery rounds and HIMARS rockets on enemy targets since the battle started on October 17," said Colonel John Dorrian, Operation Inherent Resolve Spokesman. The coalition, he said, had destroyed "hundreds" of enemy vehicles, fighting positions and artillery pieces, as well as dozens of underground tunnels.
You can share this story on social media: