60 civilians killed, 200 injured as US-led coalition strikes Mosul residential areas – Russian MoD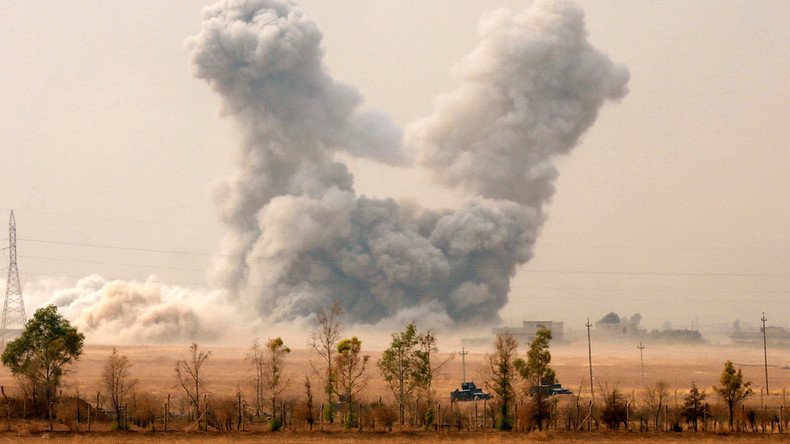 Over 60 civilians have been killed and at least 200 injured during three days of US-led coalition airstrikes on residential areas in Mosul, the Russian military reported.
"There were numerous attacks of the US-led coalition targeting residential areas, schools, and other civilian objects both in Mosul and in other parts of the Iraqi Nineveh Governorate," Gen. Sergey Rudskoy, head of Operations in the Russian General Staff, told journalists on Tuesday.
"We are closely monitoring the situation around Mosul. So far we see no substantial progress in liberating this city from the terrorists of ISIS," he added, referring to the terrorist organization Islamic State by its former name.
According to the Russian military, among the civilian objects hit by US-led coalition airstrikes was a school for girls in southern Mosul, which was attacked last Friday.
Meanwhile, the International Committee of the Red Cross reiterated its call not to target civilians and civilian infrastructure in Mosul. The aid organization earlier warned that the offensive may force hundreds of thousands of refugees to flee the city, overstretching Iraq's already-challenged ability to shelter them.
The general described the situation around the Iraqi city on the sidelines of a report about Russia's action in Syria, where Moscow and Damascus continue a pause in the offensive in Aleppo, which is divided between the Syrian Army and various armed groups, including the terrorist organization Al-Nusra Front.
Rudskoy said that Russia has not conducted sorties over and around Aleppo since last Tuesday and intends to continue holding off the warplanes. Fighting on the ground in the city resumed on Sunday, after a three-day unilateral ceasefire was derailed by insurgents, who prevented civilians from fleeing the battered city.
Iraq's Mosul is being besieged by a ragtag coalition of uneasy allies, which includes Iraqi government forces, Shiite militias, Kurdish troops, and the Turkish Army. The US-led coalition is providing air support for the operation, which was launched a week ago.
READ MORE: Turkey may launch ground op against Kurds in Iraq if feels threatened – minister

IS fighters have since launched a number of raids on their opponents' communications, distracting the attacking forces from Mosul. No fighting inside the city has been reported yet, although several neighborhoods were seized during the offensive.
You can share this story on social media: