Turkey may launch ground op against Kurds in Iraq if feels threatened – minister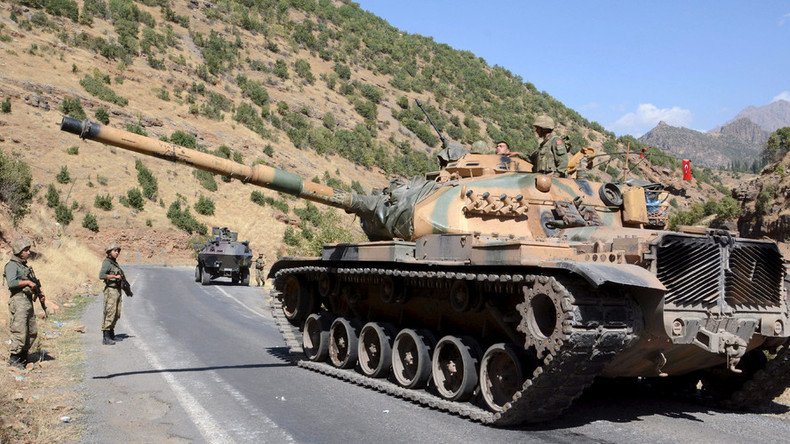 Ankara warned that it may send ground troops to attack Kurdish forces in Iraq, if it feels threatened. Turkish forces and Kurdish militias are supposed to be allies of Iraq and the US-led coalition in an offensive against Islamic State-held Mosul.
Turkish Foreign Minister Mevlut Cavusoglu accused Baghdad of "tying itself to a terrorist organization," referring to the Kurdistan Workers Party (PKK), a Kurdish militant group responsible for a decades-long insurgency in the southeast of Turkey. Ankara says Iraqi Kurds are giving shelter to PKK forces and has been using aircraft to bomb the group's training camps in the neighboring country, as well as in Syria.
Speaking to the Kanal 24 TV station on Tuesday, Cavusoglu said Turkey would not hesitate to use ground troops against Kurds in Iraq.
"If there is a threat to Turkey from Iraq, we will use all our resources and rights, including a ground operation," he said.
"We aren't saying this to Iraqis alone, but to the United States and all coalition nations, to the northern Iraqi government," he said.
Turkey has a military force stationed at the Bashiqa military camp, near the northern city of Mosul. The presence is claimed to be part of the US-led effort to retake the city from Islamic State (IS, formerly ISIS/ISIL), which has been in control of it for two years. Baghdad says Turkey sent its troops into Iraq with no permission and has repeatedly demanded to withdraw them.
Ankara says it has to be part of the Mosul operation in order to prevent abuses of the city's predominantly Sunni population as well as ethnic Turkmen living around the city. Iraqi government is Shiite and has been using Iran-trained Shiite militias in the fight against IS. Iraqi Kurds have been a major factor in ousting IS forces from historically Kurdish parts of northern Iraq, with the US providing weapons and air support for their effort.
Meanwhile in Syria, Turkey-backed fighters took control of more territory as they push against both IS and Syrian Kurdish forces. With the areas of Tuways, Al Gharz and Tlatinah south of Akhtarin now reportedly under Turkish control, Ankara has widened its border buffer zone to 1,280 sq km, the Turkish military said in a statement.
The ground incursion on the Syrian border, which involves Turkish regular army, was launched in August and forced Kurdish forces to retreat east.
You can share this story on social media: