Iraqi Kurds will push for independence after Mosul is freed — PM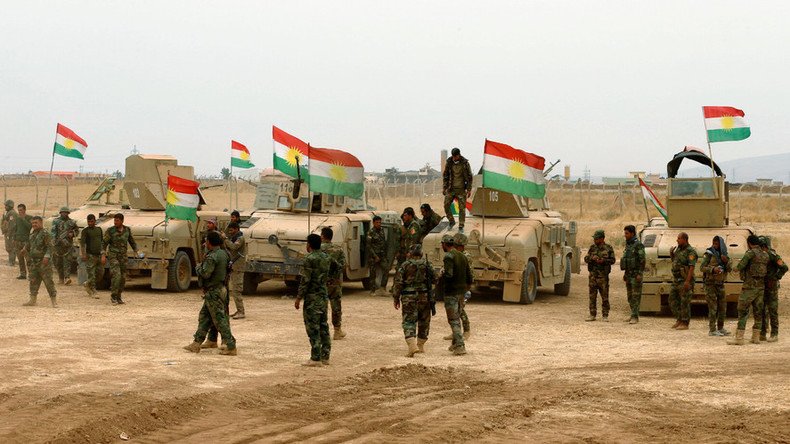 Iraq's Kurdistan Regional Government (KRG) prime minister says the Kurds will renew their push for an independent state after Mosul is liberated from IS — which may take up to three months, given the quick gains made on the approaches to the city.
In a Friday interview to the German daily Bild, Nechervan Barzani said Kurdistan's authorities are set to renew their push for independence once Mosul is retaken from terrorists.
"The time has long been ripe for it, but we are currently concentrating on the fight against Daesh," Barzani said, using the Arabic pejorative for Islamic State (IS, formerly ISIS/ISIL) terrorist group.
As soon as Mosul is liberated, Kurds will meet with "partners in Baghdad and talk about our independence." Barzani stressed that Iraqi Kurds have been waiting for a chance at independence "for too long."
"We are not Arabs, we are our own Kurdish nation... At some point there will be a referendum on the independence of Kurdistan, and then we will let the people decide."
The advance on Mosul has been fast so far, Barzani said.
"We have taken the outlying districts quickly, but it's not clear how strongly Daesh will defend the city itself.
"If everything goes well further on, I foresee the city to be liberated in three months at the latest," he added.
He also expressed the need for EU aid to support refugees, which the conflict will inevitably bring forth, as well as more German weapons to aid KRG forces – the Peshmerga – who have fought alongside Iraqi government forces in battling Islamists in the Mosul offensive.
"We are seeing that they [IS terrorists] have hundreds of suicide bombers, they must have entire factories where they are making the explosives. That is the greatest threat to the offensive," the prime minister noted, asking Germany for more ammunition supplies.
READ MORE: US may 'navigate & direct' ISIS terrorists from Mosul into Syria – Assad aide
"If we do not get more missiles, there will be more and more deaths on our side.
[…]1,600 have died, 9,000 have been injured so far in the two years of battling ISIS. ISIS has so many people that have been brainwashed that it now has an endless supply of suicide bombers. We do not [have these numbers], we have to defend ourselves, and we need more Milans and ammunition," Barzani said. MILAN is a portable anti-tank guided missile system manufactured by Euromissile. Germany delivered some 60 launchers to the Kurds in 2014 and 2015, as well as some 1,000 missiles. They have so far delivered only 200 more missiles in 2016.
Bild reported on the shortage in missile ammunition within the ranks of the Peshmerga lately, but after the news outlet asked the German Defense Ministry to comment, it was only told the ministry was unaware that Kurdish fighters were in need of any more weapons.
The Kurdistan Regional Government is the official ruling body of the predominantly Kurdish autonomous region of Northern Iraq, referred to as Iraqi Kurdistan or Southern Kurdistan. In July 2014, President Massoud Barzani (Prime Minister Mechervan Barzani's uncle), who has been heading Kurdistan's regional government since 2005, announced that Iraq's Kurds were to hold an independence referendum. But the security situation forced these plans to be postponed, as Islamic State was gaining ground in the region. In February this year, however, President Barzani once again voiced the desire to hold a referendum on a Kurdish state in northern Iraq, raising tension with Baghdad, which is against secession. Despite the goodwill Kurdish forces have gained in the international community since they joined the battle against ISIS, it is unlikely their independence claims will see much support, as major powers in the region have historically opposed Kurdish aspirations for independence, especially neighboring states with large Kurdish minorities of their own.
Turkey even warned this week it may send ground troops to attack Kurdish forces in Iraq if it feels threatened. Although Turkish forces and Kurdish militias are supposed to be allies of Iraq and the US-led coalition in the offensive against IS in Mosul, Turkey has been accusing Iraqi Kurds of giving shelter to the Kurdistan Workers Party (PKK), a Turkey-based Kurdish militant group viewed by Ankara as a terrorist organization and a major security threat to Turkey. PKK in Turkey waged a decades-long guerrilla war against the Turkish government. Ankara says Kurds in neighboring Iraq, as well as in Syria have been helping the PKK in the alleged hostilities against Turkey.
You can share this story on social media: