Assange 'shocked' at Swedish refusal to grant leave for funeral of WikiLeaks director
Published time: 28 Oct, 2016 15:52
Edited time: 30 Oct, 2016 13:53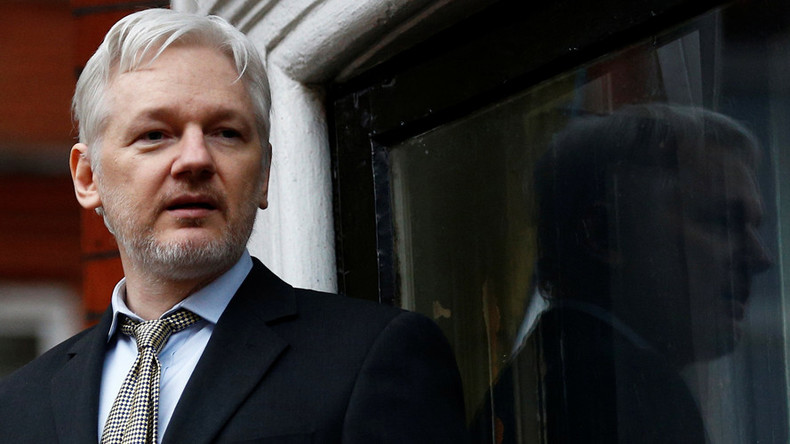 Swedish prosecutors have refused to temporarily suspend WikiLeaks founder Julian Assange's arrest warrant to allow him to leave the Ecuadorian embassy in London to attend the funeral of long time mentor Gavin MacFadyen.
"Julian Assange has requested that the Swedish prosecutor should grant him leave from the detention order and the European arrest warrant in order to go to a funeral," the prosecutor's office said in a statement released Friday. It said that Swedish law does not allow such exemptions on European arrest warrants.
Assange released a statement on the decision, which he is appealing to Sweden's Attorney General Anders Perklev. The request was made to the official in charge of Assange's case in Sweden, Marianne Ny.
"I am heart-broken that this official has rejected my request to attend Gavin's funeral. Her rejection is consistent with the corrupt and frankly wicked manner in which she has exercised her 'discretion' over me, as the UN also ruled earlier this year," Assange said.
"I am deeply shocked that this official would use my request for compassion as an opportunity for publicity by issuing a press release boasting of her rejection about this deeply personal matter," he added. "This callous official has shown no consideration for my grief or that of Gavin's family. I have instructed my counsel to appeal the request to Sweden's Attorney General."
Assange has previously been denied permission to leave the embassy where he has been since 2012, including last October when he was denied a hospital visit for an MRI.
MacFayden died on October 22. He was a director of WikiLeaks and enjoyed a long and distinguished career in investigative journalism and documentary filmmaking. He co-founded the Center for Investigative Journalism and formed the Julian Assange Legal Defense committee alongside journalist John Pilger.
The UN Working Group on Arbitrary Detention found Assange to be "arbitrarily and unlawfully detained" by Sweden and the United Kingdom in February.
READ MORE: UN panel rules Julian Assange arbitrarily detained, entitled to liberty & compensation
Assange is wanted in Sweden for questioning over rape allegations. He has denied the charges, and fears he will be extradited to the US if he travels there, something Swedish authorities won't guarantee.
The US is currently conducting a national security investigation against Assange for releasing millions of government documents, including many from Chelsea Manning which revealed secrets about the wars in Iraq and Afghanistan.