Russia not involved in attack on Idlib school, Syria – Foreign Ministry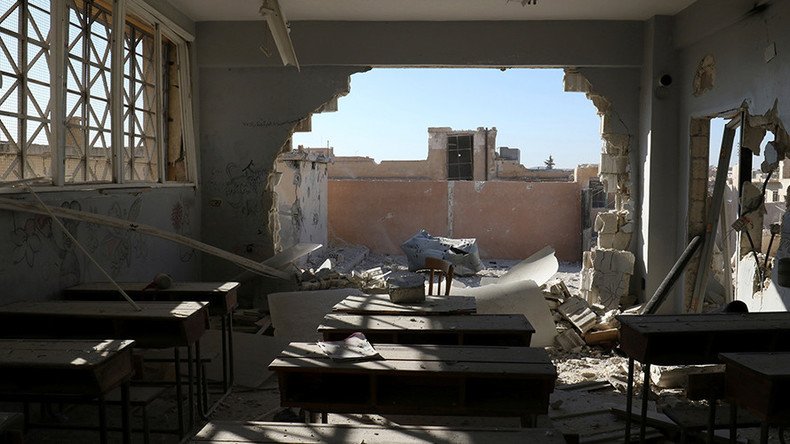 Russia was not involved in an airstrike on a school complex in Idlib province, Syria, which took place on Wednesday, the Foreign Ministry has said.
At least 28 civilians, mostly children, were killed when an airstrike hit a school complex in the village of Hass, activists say, pinning the blame on Russian or Syrian warplanes.
"Everyone has accused Russia and Syrian forces of the attack, saying directly that it was a bombardment carried out by Russia and Syria. This is a lie. Russia has nothing to do with this dreadful attack," Russian Foreign Ministry spokeswoman Maria Zakharova said in a statement.
The latest bulletin from the Russian Center for Reconciliation doesn't mention any operations in Idlib province.
The ministry said that it is investigating the data in connection with the Idlib attack.
Russia "calls upon all international organizations to join the investigation" into the incident, she said.
Initially the incident was reported by the controversial two-man, London-based Syrian Observatory for Human Rights and the Western-funded Civil Defense Network, also known as the White Helmets. The opposition Idlib Media Center also confirmed a strike on a school, claiming a "rocket" struck the premises.
The Idlib attack was condemned by the UN Children's Rights & Emergency Relief Organization, which labeled it a potential "war crime." The group said it is likely the "deadliest attack on a school" since the beginning of the Syrian war.
"This is a tragedy. It is an outrage. And if deliberate, it is a war crime. Children lost forever to their families … teachers lost forever to their students … one more scar on Syria's future," UNICEF Executive Director Anthony Lake said.
READ MORE: UN failed to organize evacuation of civilians from rebel-held Aleppo – Russian envoy
Idlib province in northwestern Syria is controlled by the Army of Conquest, a conglomerate of rebel groups being run by Fateh al-Sham Front (formerly Al-Nusra Front). Under the truce earlier agreed between Russia and the US, Islamic State and Al-Nusra Front fighters will continue to be targeted in airstrikes until terrorists lay down their weapons.
You can share this story on social media: