Facebook accused of 'collective punishment' in crackdown on Palestinian users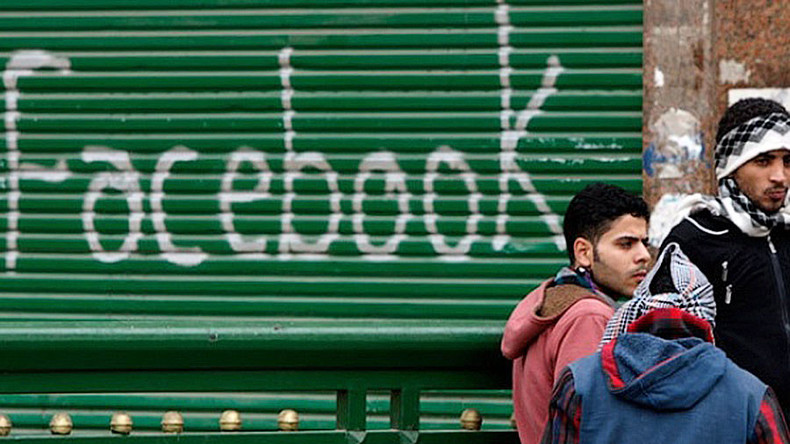 Facebook has been accused of systematic unfairness as it blocks dozens of accounts of Palestinians of all walks of life in what is viewed as an Israeli crackdown on free speech.
Testimony from rights groups and several recent reports detail the extent of this, believing it to be part of an Israeli strategy against all Palestinians. The latest is an analysis by the Palestinian Center for Development and Media Freedoms (MADA), which details a dramatic increase in account bans over 2015 – including the targeting of journalists, academics and civilians alike.
Israel officially met a Facebook delegation this September for talks, where it pressured the social media giant into targeting comments or public stances that may appear to incite violence.
The Israeli interior ministry called the negotiations "successful," while a representative for Facebook stressed "online extremism can only be tackled with a strong partnership between policymakers, civil society, academia and companies, and this is true everywhere."
This followed Israel's creation of a cybercrime unit in October 2015, amid an escalation in Palestinian-Israeli attacks.
At that time, top Israeli officials blamed Facebook for the escalation of violence in Jerusalem and elsewhere. The attacks happen "due to the combination of Internet and Islamist extremism… It has been Osama bin Laden meets [Facebook founder] Mark Zuckerberg," Israeli Prime Minister Benjamin Netanyahu said.
This July, Israeli Public Security Minister Gilad Erdan said that "some" of the Israeli blood "is on Zuckerberg's hands" due to the fact that "the dialogue, the incitement, the lies of the young Palestinian generation are happening on the Facebook platform."
Since 2014, some 61 Palestinian and nine Israeli journalists have been prosecuted for online posts. Whereas figures from the activist Palestinian Information Center (PIC) state that at least 150 Palestinians have been arrested in recent months, also on the charge of 'incitement to violence', according to the Independent.
"Social media sites are… an efficient window to empower journalists and Palestinians in general to express their opinions freely," writes the MADA report author Mousa Rimawi. "[But] systematic surveillance and observation by Israeli Occupation Authorities [means they have become] an open platform for persecution and oppression relating to users' opinions."
Rights monitors say a large chunk of account bans did not follow proper investigations by Facebook.
The PIC's Rami Salaam, who saw 10 of his group's administrator accounts deleted from both English and Arabic pages this week, told the Independent the tactics are aimed at "preventing our voice from reaching out to the world."
Last month saw the accounts of several journalists from Shehab and Quds news agencies suspended. They operated in the West Bank. Facebook later said the suspensions had been the result of an error.
It offered similar responses and apologies when Palestinians started an online flashmob with the hashtag #FBcensorsPalestine. But the social network has been continuing to disable accounts one by one, according to activists. They say all of this is the result of Facebook meeting with the Israeli government.
READ MORE: Labour councilors suspended over 'anti-Israel' social media posts
"The Israeli violations against media freedoms, freedom of expression and opinion, access to information are being practiced systematically, particularly following the agreement that was signed between Israeli officials and Facebook," MADA wrote. They "constitute a continuous systematic breach with long-term consequences that will hinder Palestinian journalists from performing their work."
But more importantly, MADA sees this as a "form of collective punishment against Palestinians," which comes out of the absence of the same standards used by Israel to protect its own journalists, and consequently results in Palestinian civilians' right of access to information being violated.
The complaints by the PIC and the MADA report come on the heels of another report detailing a string of child and teenager arrests the IDF has been carrying out in relation to Facebook activity.
According to Defense for Children International-Palestine (DCIP), the group spoke with several minors who have been detained with no charges and interrogated for hours, before being thrown in a cell for months, as per Israel's policy of "administrative detention."