VIDEO shows armored police & fires lit by Calais migrants hours before camp gets bulldozed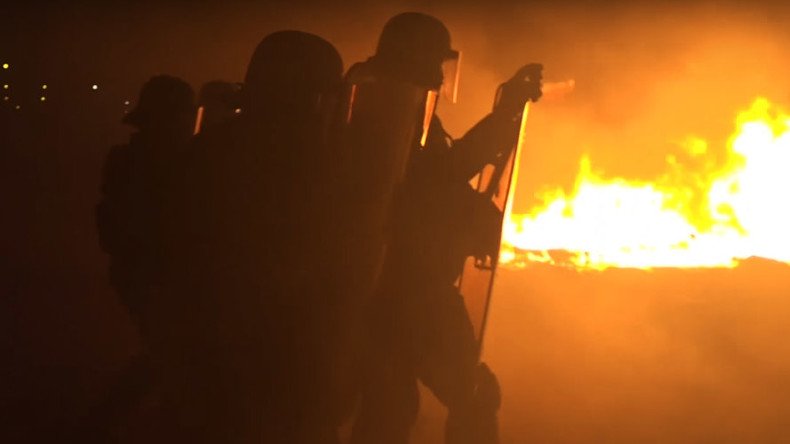 Migrants at the notorious "Jungle" camp in Calais lit fires at the site just hours before its scheduled demolition, as riot police looked on. Authorities are to begin bulldozing the site Monday, leading to the mass eviction and relocation of around 7,000 people.
The groups of migrants started the fires using portable toilets in a sandy area on the camp's edge.
Riot police stood guard as the migrants gathered around the blazes.
The camp is set to be completely demolished by the end of the week, and its 7,000 residents dispersed to other parts of France. Sixty buses are scheduled to transport the first 3,000 migrants to temporary reception centers across the country on Monday.
Those who refuse to leave Calais risk being arrested and deported, numerous charities have warned.
READ MORE: Calais migrants clash with police, get teargassed ahead of camp's final dismantling (VIDEO)
The makeshift camp has been a makeshift shelter for thousands of migrants from Africa and the Middle East. Around 1,200 of the camp's inhabitants are believed to be children, many of whom are unaccompanied.
The UN's refugee agency (UNHCR) has warned that children will be particularly at risk after the site's demolition. Spokesman Adrian Edwards told a press conference last week that the French government must provide a suitable solution for those displaced, noting that "this is important so that children don't move on to other destinations and risk becoming exploited by human traffickers or end up living in the streets without any support." He went on to stress the need to reunite children with any relatives who are currently in Europe.
'Not interested in staying & integrating'
Claude Roche, from France's center-right Union of Democrats and Independents (UDI), told RT that migrants staying in Calais' so-called "Jungle" camp who are to be relocated to refugee shelters across the country "refuse to be assimilated."
"They are not interested in France. They don't speak a word of French," Roche said, adding that if migrants want to find a place for themselves in the French society they must "become French," which means to "adapt to the French customs and culture."
Another factor that derails integration attempts is the common practice of the refugees to form closed communities which prevents them from becoming full-fledged members of French society, Roche said.
"We are not interested in their staying in too large groups, more than two families, there is no possibility [for migrants] to be integrated in French city life, because they will stay close together," Roche said, adding that "their only project is to go to the UK."
He believes that, that while there is no such problem as racism in France where people of different backgrounds live peacefully, French citizens oppose the camp because the roots of the problem go beyond humanitarian grounds and are more of a political nature.
"The project of the mainstream political parties is to transform French society into a multicultural society, and France is not a multicultural society," Roche said, adding that multiculturalism always leads to "fights and wars."
You can share this story on social media: