Iraqi parliament bans alcohol, opponents to appeal 'unconstitutional' measure
Published time: 23 Oct, 2016 18:03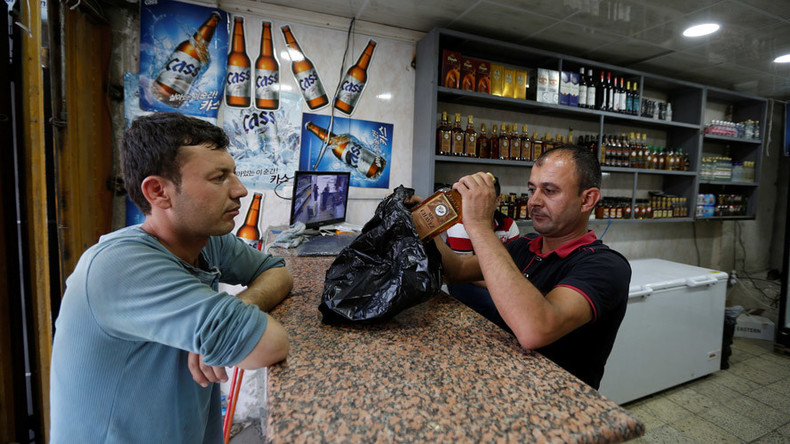 The Iraqi parliament has passed a new law banning all production, import, and sale of alcohol – a measure alienating minorities, the country's Christian community in particular.
The law, which was passed late on Saturday, subjects violators to fines between 10 million and 25 million dinars (roughly $8,000 to $20,000). The measure, which was added to a larger bill called the Imports of Municipalities Act at last-minute, caught some observers off-guard, as it had been little discussed by MPs. Opponents say the prohibition violates the rights of non-Muslims, which is guaranteed by Article 2 of the Constitution.
"A law was passed today and article 14 of that law bans the import, production and sale of all kinds of alcohol," Christian MP Yonadam Kanna told AFP. "This article of the law goes against the constitution, which guarantees the freedoms of minorities," he stressed.
"This law will put people out of jobs, drug consumption will rise, the economy will be affected," he predicted, reflecting on the social problems the prohibition of alcohol could bring.
Alcohol has been available in Iraq's big cities, where it is sold in small, typically Christian-owned stores. There are several local brands, including Farida beer and Asriya arak, a regional anise-flavored spirit. However, in the aftermath of the US' 2003 invasion, Islamic extremists have been targeting alcohol-sellers. In one incident in May of 2013, ten Christian men were shot dead in Baghdad.
The bill has also been criticized on social media, with some Iraqis saying the ban is little more than a government attempt to distract the public from more immediate concerns, such as rampant corruption and the threat posed by Islamic State (IS, formerly ISIS/ISIL). A cartoon circulating online shows a group of men with their backs turned towards the IS stronghold of Mosul, aiming their guns at a bottle of liquor.
The bill was proposed by Mahmoud al-Hassan, an Islamist MP from the largely Shiite State of Law coalition. Supporters of the ban have argued that the bill is entirely constitutional and will serve the public good.
"The constitution says you cannot approve a law that goes against Islam," Shiite MP Ammar Toma told AFP.
"The effects of alcohol on society are great, and include depravation, terrorism and social problems… As for the people who will lose their jobs, new jobs can be found for them," he added.
While the Iraqi parliament, also known as the Council of Representatives, announced the Imports of Municipalities Act on their website, it did not specify how many MPs had voted for or against it. Kanna has said he will launch an appeal in hopes that the law will be overturned by Iraq's Supreme Court. It's also unclear whether it will be enforced in the largely autonomous region of Kurdistan, which has a large Christian minority.
The new legislation comes as the Iraqi government, backed by Kurdish Peshmerga and Shiite militias, is engaged in an assault on the IS stronghold of Mosul. IS has imposed a strict ban on alcohol, cigarettes, and other psychoactive drugs.
Alcohol is restricted throughout the Muslim countries of the Middle East, though few impose a complete ban. In Iran, for example, Christians and Jews are allowed to produce and drink alcohol to be used and traded within their own communities, which has led to a burgeoning black market, similar to that in the United States during Prohibition.