Forced sobriety: ISIS harms Baghdad with alcohol price surge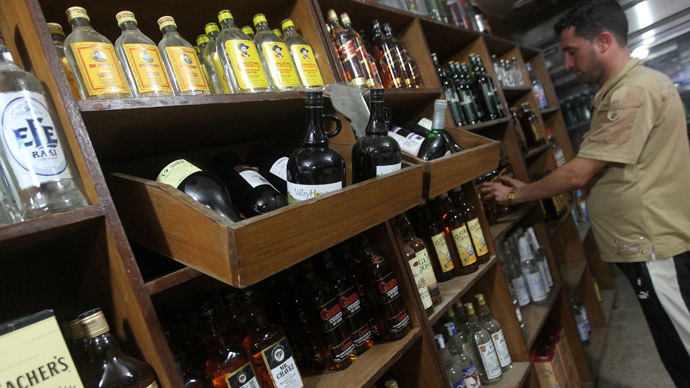 Enjoying a pint of beer or a glass of whiskey now comes at a dear price in Iraq's capital Baghdad due to the Islamic State offensive. Forced to go around jihadist-occupied areas, importers must bribe Shiite militia, making retail prices unbearable.
READ MORE: 60,000 Syrian Kurds flee to Turkey within 24 hours amid ISIS advance
For booze sellers, new import routes lead through unpaved roads in the Kurdish regions along the Iranian border controlled by Shiite militias. Those are demanding bribes of up to $15,000 for every truck transporting alcohol in return for providing security, Bloomberg reports, citing local liquor distributor Anwar al-Yezidi.
"We have no choice but to pay them in order to bring the liquors to our customers," he said.
Due to these extra delivery costs, retail prices in Baghdad have skyrocketed. One can of Heineken now costs $5 instead of $1, and a bottle of Black Jack whiskey went from $15 to $50.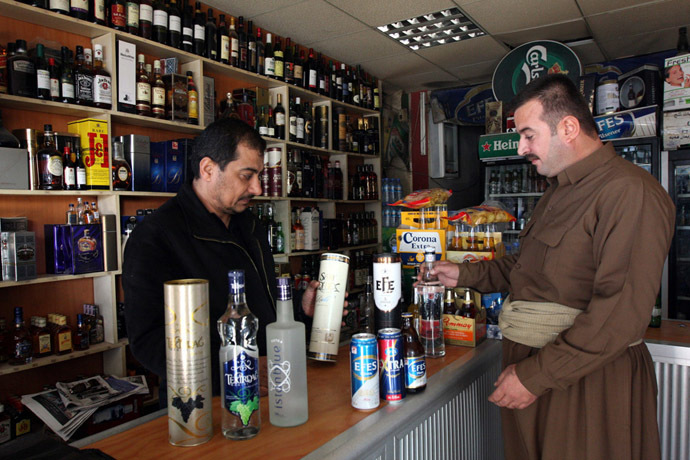 "Drinking is our only way to forget about the mayhem, but it's become very expensive," said businessman Laith Nadhum.
Even though Islam prohibits drinking, Abu Nuwas street in Baghdad is known as a place to relax and enjoy an alcoholic beverage. Now, however, fewer and fewer people turn up there.
"We are increasingly losing our customers because of the security situation, a lot of them fled the country," a Christian owner of a liquor store in Baghdad, Saad, said.
The Christian community, which sells liquor in the country, has become a target for Islamic State (ISIS/ISIL) militants.
Security fears have scared alcohol drinkers into staying behind the closed doors of private social clubs, which charge an annual membership fee and provide protection during each visit, a member of the Hunting Club, Khalid Halaly, said.
Since June, Islamic State militants have been capturing territory in Iraq and gaining recruits.
The territory conquered by the group is divided roughly into equal parts between Syria and Iraq. To exploit the wealth on captured land, ISIS forces and employs professionals in various fields, such as logistics and business, to work for them. They are tasked with controlling the illicit flow of oil and other financial activities.
The number of Islamic State recruits is much higher than estimated by foreign observers – around 100,000 – according to Hisham al-Hashimi, an advisor for Iraq's intelligence services.
READ MORE: ISIS has 100,000 fighters, growing fast - Iraqi govt adviser
Insisting on the urgent need to battle the threat, the US on Monday launched its first "offensive" airstrike against Islamic State militants near Baghdad, marking the expansion of Washington's ongoing military campaign against the extremist group. On Thursday, the US Senate passed a bill authorizing President Barack Obama to begin arming "moderate" rebels in Syria – a move said to be in an effort to help fight ISIS on the ground.
READ MORE: US launches first 'offensive' airstrike on ISIS near Baghdad