Russian diplomats in US could face criminal charges for monitoring November elections – embassy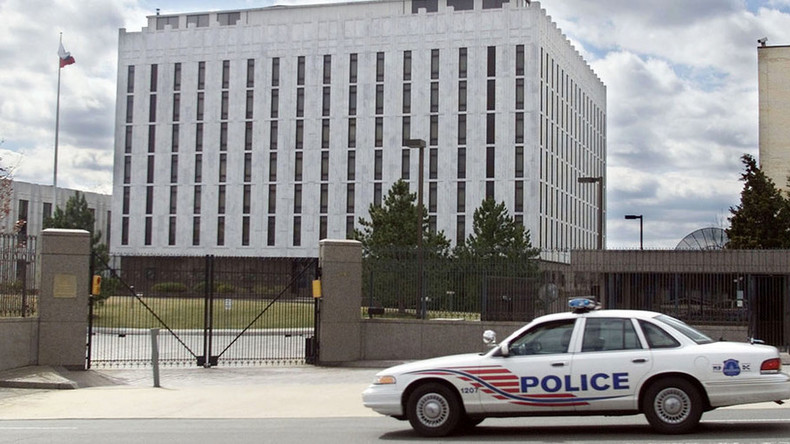 Russian diplomats in the United States have been threatened by US officials with criminal prosecution if they attempt to monitor upcoming Presidential and Congress elections at polling stations, the Russian Embassy in Washington said in a statement.
According to the Russian diplomatic mission, it has not submitted any official request to monitor the elections, due to take place November 8.
"We have not submitted any requests to the Department of State regarding the election observation. As a matter of respectfully conducting our diplomatic duties we sent the information on our intentions to the Department of State," the statement by the Embassy reads.
The facility said it has reached out to several local electoral commissions to "get acquainted" with American electoral procedures, but got a negative response. The diplomats were even threatened with legal action, the Embassy said.
"We received mostly negative responses, including threats that our interest and presence at polling stations could be seen as a criminal act."
The US media earlier reported that the States of Texas, Oklahoma and Louisiana have reportedly received election-related inquiries from Moscow. Though not naming the exact parts of the US, the Russian Embassy noted that "some local authorities we approached coordinated their negative decision with the federal government."
During Friday's press briefing, US State Department spokesman John Kirby said that Moscow is "welcome" to observe the polls as part of the mission by Organization of Security and Cooperation in Europe (OSCE). Moscow has so far denied filing a respective request to the OSCE, citing concerns over the work of the organization.
Washington, in response, called Russia's interest in observing the elections a PR stunt. "The fact that they [Russia] have chosen to not join the OSCE observation mission makes clear that this issue is nothing more than a PR stunt," Kirby said.
The Russian Embassy countered in its statement that any such monitoring is part of the normal "functions of a diplomatic mission" according to the Vienna Convention on Diplomatic Relations of 1961. The body also voiced its frustration over Washington's "unfriendly way" of blocking Russia's "desire to pursue normal diplomatic work."
"The US did not invite any international mission to monitor their elections for a long time. Generally and principally did not invite," Russian Deputy Foreign Minister Sergey Ryabkov told RIA Novosti.
On October 7, Washington accused Moscow of hacking US officials' and organizations' emails. Russian presidential spokesman Dmitry Peskov has responded, saying the accusations were "nonsense."