Up to 90% of rejected asylum seekers cannot be deported from Austria – Defense minister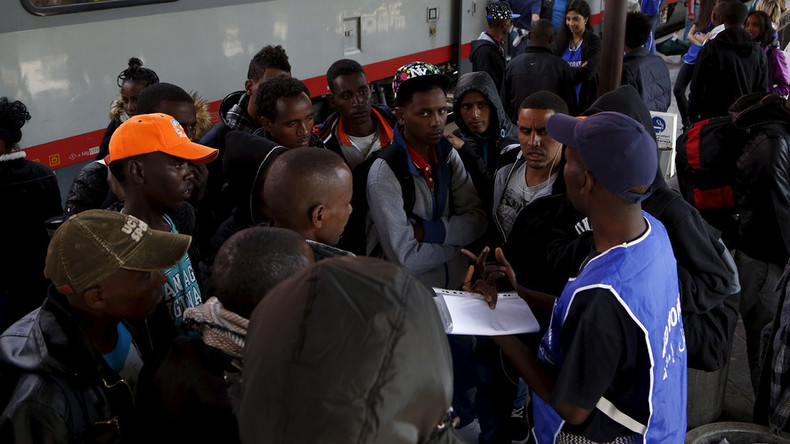 Up to 90 percent of the asylum seekers that have had their applications rejected in Austria still remain, never having been deported, Austria's defense minister said, adding that the majority of these migrants come from Africa.
"At the moment, it doesn't make much difference whether someone gets a negative or positive decision on their asylum application, because we are unable to implement any decision in between 80 and 90 percent of cases," Hans Peter Doskozil, Austria's defense minister said, as cited by the Austria Press Agency.
The majority of such rejected applications come from the citizens of African countries, he added. According to the minister, the problem may even worsen as the population of Africa will "double by 2050," and people will invariably continue to flee and arrive in Austria.
Doskozil's speech was followed by a statement from Interior Minister Wolfgang Sobotka, who said that the majority of the asylum seekers don't have the qualifications necessary to enter Austria's labor market.
"We will have to live with this migration issue… maybe for years, or decades," he added.
READ MORE: 'Totally unrealistic': Austrian FM blasts EU refugee quota plan
The Austrian federal chamber passed a law in May authorizing the government to declare a state of emergency lasting up to six months, and extendable for another three, if the number of refugees applying for asylum in Austria exceeds the cap of 37,500 for the year. By the end of July, Austria had already received a total of 24,260 applications, an average of 3,000 per month, according to estimates from Chancellery Minister Thomas Drozda.
In September, Vienna threatened Hungary with "legal consequences" if it continues to refuse to take back refugees under the Dublin Accord – a treaty that stipulates that migrants must apply for asylum in the country through which they entered the EU.
READ MORE: Austria to consider state of emergency decree over refugee crisis
In 2015, the EU parliament adopted a two-year emergency relocation scheme that listed the specific share of asylum seekers each of the bloc's states was obligated to take in. The plan has been criticized by the Austrian authorities. In October this year, Austrian Foreign Minister Sebastian Kurz said that the refugee quotas the EU is planning to impose on member states are "totally unrealistic."
"I think the measure to distribute [some] 160,000 refugees throughout EU member states in two years is wrong… The European Union should no longer cling desperately to it, should say goodbye to it," Kurz said.
You can share this story on social media: