'Get lost': Moscow to keep counter sanctions & other highlights from Putin's BRICS presser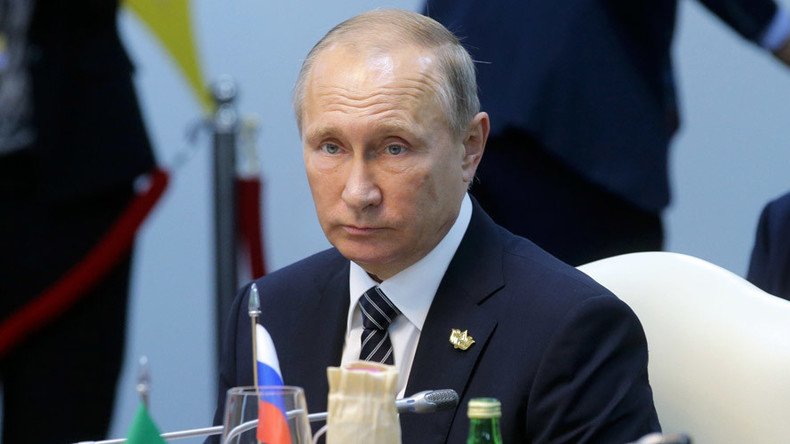 While meeting the media in Goa, southwest India, the Russian president was asked to comment on hot issues as the US elections, the situation in Ukraine and Syria, and his refusal to visit France, rather than Moscow's relations with its BRICS partners.
Deteriorating Russia-US relations: 'It all started from Yugoslavia'
Relations between Moscow and Washington did not deteriorate because of or during the Syrian conflict, Putin said in a remark to a journalist, adding: "Just remember what was going on about Yugoslavia, it all started from there." The Russian leader said that it's not about any third side in particular, but relations worsen because "one country" wants to impose its policy and decisions upon the rest of the world.
READ MORE: Putin on Biden cyberthreat: First time US admits such thing on highest level
"We are not against this country, but we oppose that decisions are made on a unilateral basis and are not thought through considering historic, cultural and religious peculiarities of one country or another," even if there is a conflict within the affected nation, Putin said.
'Sanctions aim to suppress Russia's strength'
The US does not accept compromises, which is necessary to solve issues in world politics. Rather, it chooses a "counterproductive" policy of sanctions, Putin said. "Apparently, they don't want to compromise, they only want to dictate. Such a style has formed over the past 15-20 years in the US, and they still can't deviate from it," Putin said, adding that restrictive measures never achieve the aims that those who impose them hope for.
"Regarding sanctions against Russia, whatever they are said to be linked to, be it events in Ukraine or Syria, I assure you, the aims of those who formulate such a policy [of restrictions] do not solve any concrete problem," Putin told the media. Saying that "sanctions are aimed not at solving anything, but at suppressing Russia's strengthening" as a robust participant in international affairs, the president said that such intentions against Russia would never be fulfilled.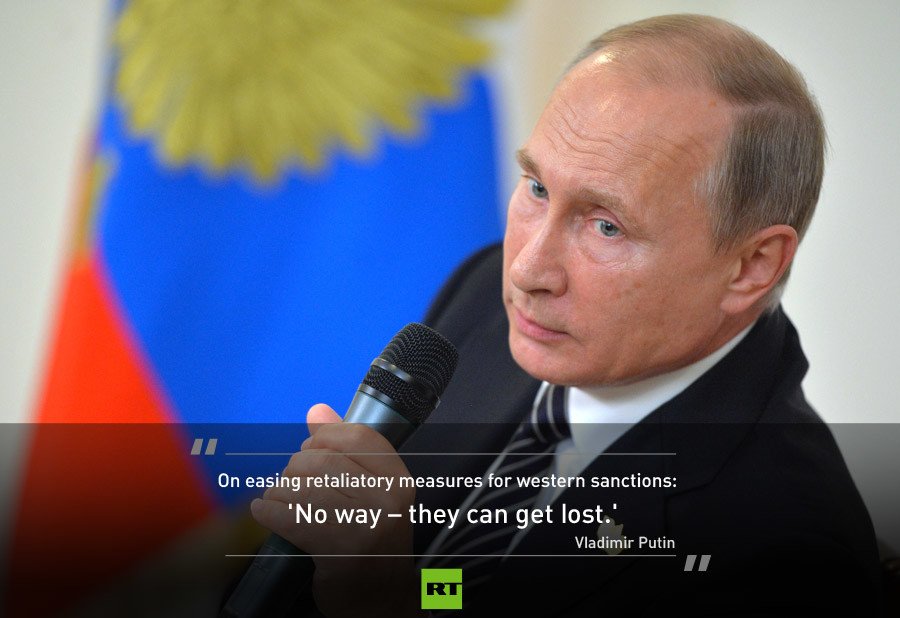 Moscow, in turn, does not plan to ease its retaliatory measures, caused by western policies, the Russian leader told the journalists in Goa. "No way, they can get lost," he said.
'US officials snoop and eavesdrop on everyone'
Russia's president was not surprised with US Vice President Joe Biden's recent threats towards Moscow, and said that it's not the first time Russian-American relations have been "sacrificed" for the sake of a US presidential campaign. "One can expect anything from our American friends. What has he revealed that is new? Don't we already know that US officials snoop and eavesdrop on everyone," Putin said, adding that Washington "spends billions of dollars" on its secret services "spying not only on its potential opponents, but on its closest allies as well."
Russia portrayed as US enemy to divert voters' attention from domestic problems
Meanwhile, Russia is not going to meddle in the American presidential elections in any way, the president told reporters, adding that Moscow has no idea what could happen after a new US leader is elected. So far Hillary Clinton has chosen "an aggressive stance on Russia," and Donald Trump has called for cooperation, "at least in fighting terrorism," but "no one knows what it will be like after the elections," according to Putin, who said that both candidates might change their rhetoric.
Creating an enemy out of Russia is a means by which to distract attention from domestic problems during election campaign season, according to Putin. "There are many problems [in the US], and in these circumstances, many choose to resort to the tried and tested system of diverting voters' attention from their own problems. That's what we are currently witnessing, I think."
"Portraying Iran and the Iranian nuclear threat as an enemy didn't work. [Portraying] Russia [as an enemy] seems more interesting. In my opinion, this particular card is now being actively played," Putin said.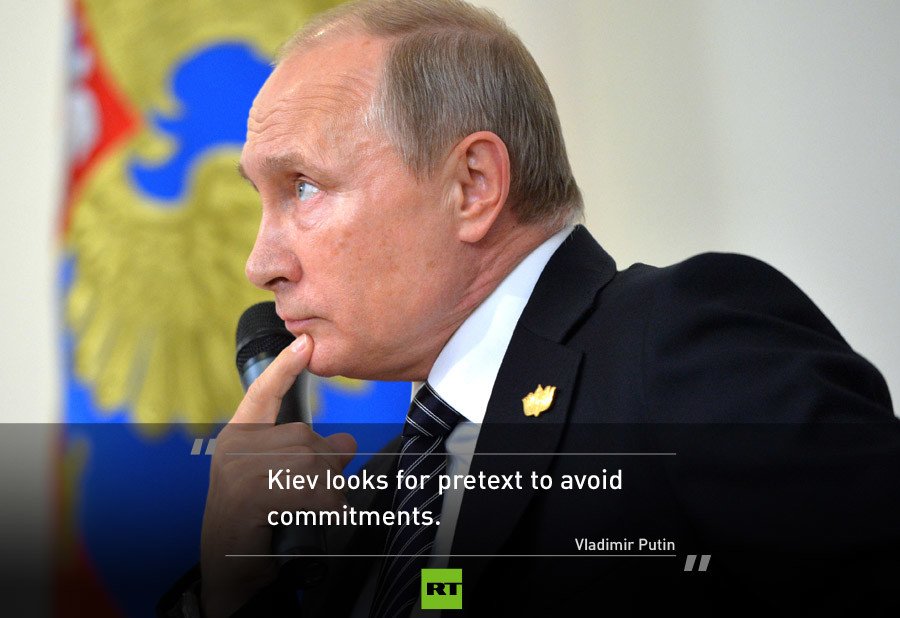 It will be hard to settle the conflict in southeastern Ukraine with President Poroshenko's propensity to avoid political commitments adhering to the Minsk peace deal, Putin once again warned. Recently, the Ukrainian leader has said that Kiev would not proceed with a political process in the region, as the issue of security has not been solved in the troubled part of the country.
"I think it's only a pretext to not do anything in the political sphere," the Russian president said, recalling Kiev's obligations to amend Ukraine's constitution, as mentioned in the peace deal. "If it's not done, it means that the current government are not ready to solve the problem once and for all," Putin said.
Commenting on future meetings with European partners to discuss the situation in Ukraine, the Russian president said that he had agreed with his French and German counterparts that it would be "viable" to meet only if the leaders' aids manage to make progress in preparing some preliminary agreements.
On canceled Paris visit: 'French side refused to take part in joint events'
Moscow is "always ready to talk with anyone," but attending meetings on issues that have been originally out of the agenda is "senseless," Putin said, answering a journalist's question as of why he canceled his Paris visit recently.
"The main reason for my planned visit to France was the opening of our religious and cultural center, and visiting an exhibition of Russian artists. So the main aim of the visit was joint participation [with the French president] in these events. But because of the known Syrian issues the French side decided not to join the events," Putin said, adding that "if the main reason for the visit dropped out," there was no reason to go.
You can share this story on social media: