'Interesting ideas & candid discussion': Syria talks positive, but no breakthrough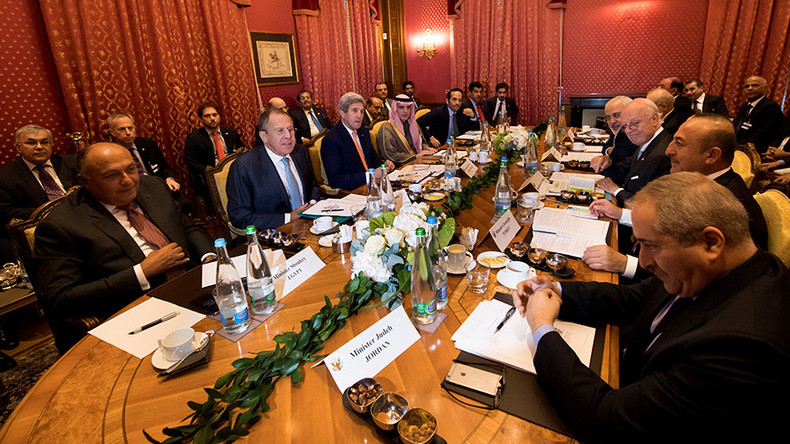 International talks on Syria in Switzerland's Lausanne have ended after four hours of discussion behind closed doors. No breakthrough has apparently been reached. Participants have agreed to further work on solving the crisis, Russia's Foreign Minister Sergey Lavrov said, adding that there are "some interesting ideas" that have been discussed.
"There are some ideas that we discussed today in a circle of pretty powerful countries, that might affect the situation," Lavrov said following the Saturday meeting in the Swiss city, as cited by RIA Novosti. The talks' participants have agreed to continue working on the issue in the following days, "hoping for certain agreements" to help move the peace process forward, he added.
Meanwhile Kerry told reporters there was consensus on a number of options that could lead to a ceasefire, but conceded that there had been some tense moments during Saturday's talks.
"I would characterize this as an example of what we wanted, which was a brainstorming and a very candid first-time discussion," he said. "A number of ideas came from a number of different ministers, as we hoped, that might be able to shape some different approaches."
Syria and the US apparently found Saturday's talks to be positive. The US Secretary of State John Kerry said that despite some tense moments the meeting was "very candid," as cited by Reuters. The Syrian side commented by saying a broad consensus had been reached on a "number of possibilities" for a ceasefire in the country.
The negotiators also urged for a political process to start in Syria "as soon as possible," Russia's top diplomat said, adding that Moscow wholly supports this initiative.
Speaking to Turkish media following the Swiss talks, Turkish Foreign Minister Mevlut Cavusoglu said that Ankara stands for "direct talks" between the Syrian government and what he called a "moderate opposition." He also stressed that fighting Islamic State (IS, formerly ISIS/ISIL) must continue in the region, even after the ceasefire is applied in Syria.
Representatives of nine countries took part in Saturday's talks at Lausanne's luxury Beau-Rivage hotel. Middle Eastern regional powers were represented by Iraq, Iran, Egypt, Jordan, Qatar, UAE and Turkey. The UN special envoy for Syria Staffan de Mistura was also present at the talks.
You can share this story on social media: