Russia, US meeting regional powers for Syria talks in Lausanne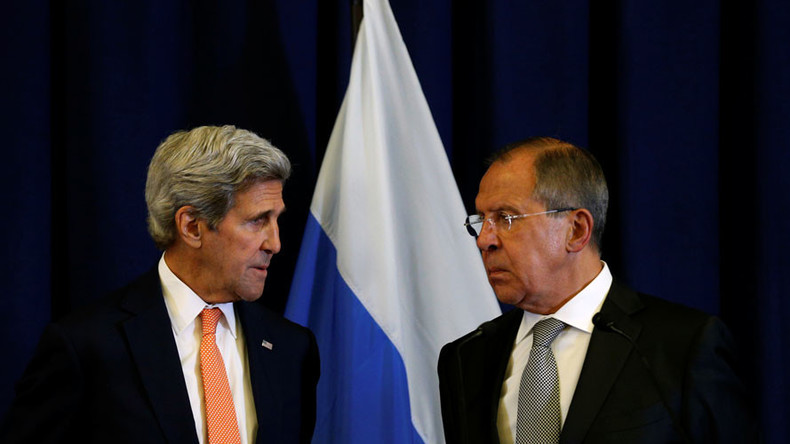 Russian Foreign Minister Sergey Lavrov, his US counterpart, and other representatives have gathered for talks in Lausanne, Switzerland, this weekend to mull the revival of the Syrian peace process.
The Saturday talks in Lausanne are closed to the media so far. There have been reports of a number of bilateral talks ahead of the main meeting, with Lavrov having reportedly met the US Secretary of State John Kerry, according to diplomatic sources.
Turkish and Qatari diplomats have also reportedly held a bilateral meeting, while UN Special Envoy for Syria Staffan de Mistura has reportedly met with Lavrov and Kerry separately.
Reviving the Russia-US peace deal agreed on September 9 and the respective UN resolutions will be top of the agenda. Moscow, however, believes that Western partners have so far shown little commitment to any agreements reached.
"We will offer concrete steps which are necessary for the implementation of these [UN Security Council] resolutions in order to fulfill the Russian-US agreements," Lavrov said on Friday during a visit to the Armenian capital, Erevan.
However, he stressed that the respective "steps" are not new proposals, but rather ways to stick to already agreed plans between Moscow and Washington.
According to Lavrov, the key elements would be the "separation of terrorists from the so-called moderate opposition" as well as "humanitarian aid deliveries."
The start of peace talks between the Syrian government and rebel representatives without pre-conditions is another central goal, he noted. The foreign minister appeared cautious in regard to the meeting's outcomes, saying he doesn't "have any particular expectations."
"So far [we] can see no steps which our Western partners are undertaking to come closer to the implementation of the existing agreements," Lavrov said.
The United States also does not expect any breakthrough from the Lausanne talks, US State Department spokesman Mark Toner said during the briefing on Friday. He pointed out that the main goal of the talks remains establishing an end to military action in Syria.
'Lausanne talks pave way for renewal of Syria peace process'
The spokesman for the German Foreign Office, Martin Schafer, said Friday that the Lausanne talks may be the step needed to help the Syrian settlement process.
"[We] hope that it will be possible to again open the negotiation channels and re-start the agreements from September 9," Schafer said, as quoted by TASS.
The mood was echoed by NATO Secretary General Jens Stoltenberg, who noted that the meeting is important for the US and Russia to get back to the negotiating table.
"We must find a way to overcome the current stalemate in Syria. And the first step to achieve this is to return to the negotiating table. So I hope that the talks in Lausanne and London this weekend will find a way forward to resolving the crisis," he said.
Russia & US lock horns
Cooperation on Syria between Moscow and Washington has been almost completely halted in the past weeks. On October 7, Kerry said that Russia's actions in Syria demand a "war crimes" probe, in particular Russia's bombing of east Aleppo. Moscow reiterated that it is targeting terrorists in the city, who have repeatedly jeopardized attempts to implement a long-lasting truce.
Commenting on the US-led calls to stop military action in Aleppo, Lavrov noted on Friday that it is merely an attempt to give cover to the terrorists there. "All of these talks that the main thing is to cease military action in Aleppo, it is an attempt to retouch and to shield [terrorist group] Al-Nusra and those who cooperate with it."
Another major blow to the relations between the West and Russia came earlier this week, when Russian President Vladimir Putin canceled a planned visit to Paris, where he was due to attend the opening of a Russian Orthodox church.
The cancelation came after French President Francois Hollande said he would not meet with Putin during his visit, other than for talks on Syria. Hollande also called for Russia's actions in Aleppo to be examined by the International Criminal Court (ICC).
In response, Putin accused France of "whipping up anti-Russian hysteria in the media" and kowtowing to US "foreign, or possibly even domestic policy interests."
Meanwhile, the situation in Aleppo itself remains extremely "complicated," Russian Foreign Ministry spokesperson Maria Zakharova told reporters on Thursday. The same day the government-controlled area in Aleppo was hit by rebel mortar shells. At least seven children came under fire, five of whom died.
"[Russian] relief supplies are being distributed in the provinces of Aleppo and Daraa: bakery products, sugar, flour, rice, tea, meat and canned fish. It is a pity that we do not see these images on CNN. Probably, they are not interested," Zakharova noted, pointing at the selective media coverage of the Western media in Syria.
You can share this story on social media: