Japan to expand African military base to counter Chinese influence – report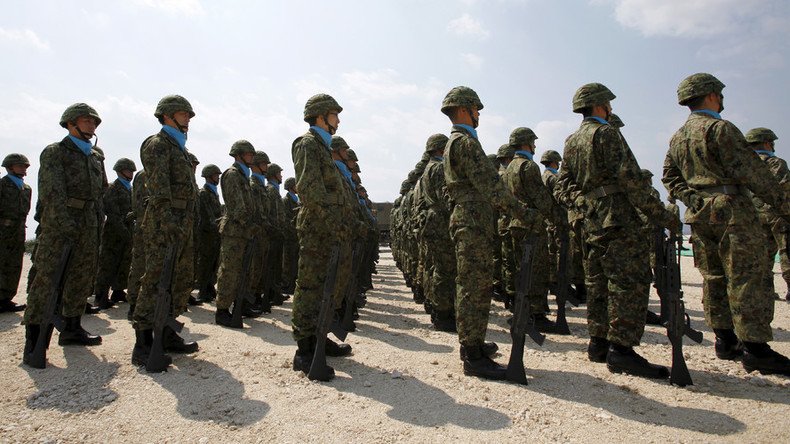 Japan is seeking to expand its military base in Djibouti, east Africa, in response to Chinese influence in the region.
Speaking to Reuters, government sources have confirmed that they are asking permission from the local authorities to expand the territory of a base used by the Japanese Self-Defense Forces (SDF).
"In addition to the land Japan has borrowed, it is considering leasing the neighboring land to its east," an official told Reuters. "Japan is now in negotiations with Djibouti government."
The 30-acre facility, located next to the US Camp Lemonnier base, is the SDF's first outside of Japan and was established in 2011 to help monitor piracy in the Gulf of Aden, off the coast of Somalia. Manned by a force of 180 troops, the base has also played host to a number of exercises, including joint drills with the Americans. The expansion of the base will be justified by the need to have takeoff and landing sites for aircraft in order to evacuate Japanese citizens in case of a regional emergency.
However, the sources also told Reuters the proposed expansion is driven by a need to counter the growing influence of China, which has been investing heavily in Africa. Last year, Chinese President Xi Jinping pledged $60 billion to help fund infrastructure, healthcare, agriculture and development on the continent. In turn, Japan has pledged $30 billion for similar projects in August.
"China is putting money into new infrastructure and raising its presence in Djibouti, and it is necessary for Japan gain more influence," another Japanese official told to Reuters.
Japan's notably pacifist constitution, drawn up after WWII, bars it from any military engagements except in cases of self-defense. However, a controversial amendment passed in 2015 expanded this to 'collective self-defense' for allies and this, together with Japan's plans to expand their Djibouti base, has not gone unnoticed in Beijing.
"Japan's military and security policies have garnered full attention in Asia and the international community due to historical reasons," Chinese Foreign Ministry spokesman Geng Shuang said at a press conference. "We hope that Japan can draw lessons from history, reflect trend of the times, and truly follow the path of peaceful development."
The rivalry between China and Japan dates back decades to WWII, when Japanese forces occupied the Chinese mainland and carried out numerous atrocities. China is therefore wary of any military ambitions by Japan, which evoke memories of its imperialist past. The United States has also enlisted Japan as an ally against communist China, and maintains several bases there.
In addition to its base at Djibouti, Japan also co-operates with Kenya over the issue of piracy and maintains a contingent of troops in South Sudan as part of a UN peacekeeping force.
You can share this story on social media: