Japan boosts 'logistics' cooperation with US military amid tensions with China & N. Korea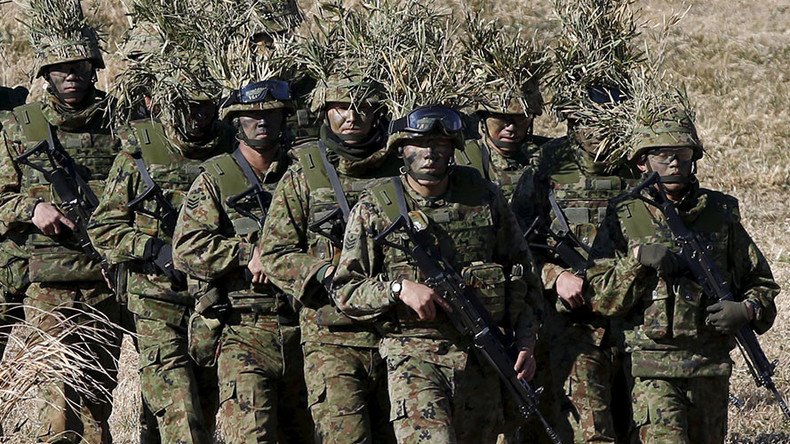 Japan has amended its Acquisition and Cross-Servicing Agreement (ACSA) with the United States to enable the provision of military supplies list under the country's new security legislation enacted earlier this year.
After decades of maintaining a defensive military posture, in March Tokyo passed a set of two laws enabling Japan to practice collective self-defense, and allowing for significant expansion of the nature the country's military forces operations in overseas missions.
Previously Japan collaborated with Washington partly through the ACSA by supplying fuel, food, and providing logistics, as well as other non-lethal items during joint exercises, UN-led peacekeeping operations, and international search and rescue operations. That Japanese aid to the US has been limited to military emergencies affecting Japan.
But changes to the laws in spring and the revised ACSA deal now expand Tokyo's potential cooperation with Washington by broadening the types of operations and support, allowing, for instance, the provision of munitions if Japan's security will be threatened by failing to do so.
"The agreement we're signing today will enable us to smoothly implement the [security] cooperation between Japan and the United States, which was expanded by the legislation," Japanese Foreign Minister Fumio Kishida said at the signing ceremony held in Tokyo, the Japan Times reported.
US Ambassador to Japan Caroline Kennedy meanwhile called the updated agreement "critical to effective cooperation" between American and Japanese forces in the region.
"As we work together to modernize our security alliance and provide humanitarian assistance and disaster relief across the Pacific, we will be aided greatly by the integration of effort that this agreement makes possible," she said.
The amended ACSA now requires the approval of the National Diet, Japan's bicameral legislature, for it to come into effect. According to Japanese officials who spoke with the Japan Times, the revised ACSA will allow the SDF to provide ammunition to the US forces in non-emergency situations, which will include information gathering missions, antipiracy operations or missions to deal with ballistic missile threats. Weapons, however, will continue to be excluded from the supplies list, the officials said.
READ MORE: Tokyo scrambles jets as Beijing stages air force exercise near Japanese islands
Japan hopes that the new framework will bolster the bilateral military alliance at a time when Japan faces an increasingly turbulent security situation in Asia, stemming from territorial disputes with China and North Korea's provocative nuclear and missile tests.
You can share this story on social media: