Tokyo scrambles jets as Beijing stages air force exercise near Japanese islands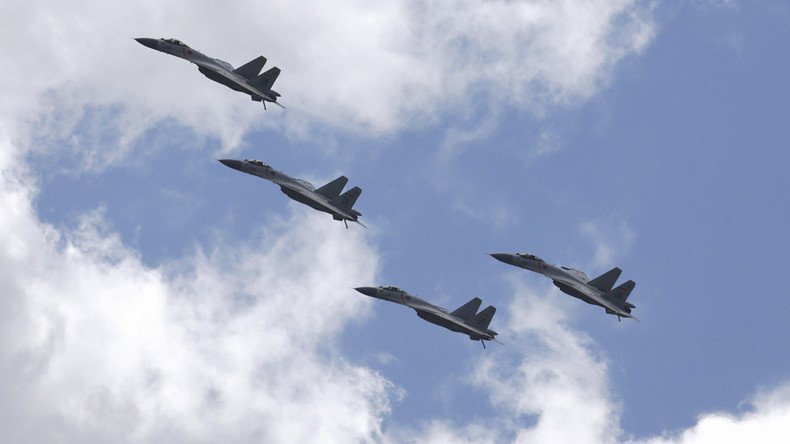 Japan scrambled fighter jets on Sunday after spotting Chinese warplanes fly through a strait between Japan's Miyako and Okinawa islands for the first time. Beijing said it sent more than 40 aircraft to participate in military drills in the Western Pacific.
The Japanese military said they decided to put their fighter jets up in the sky after spotting eight Chinese aircraft, including four bombers, two fighters and two surveillance planes. The military added that they later made a U-turn and flew back to the East China Sea without violating Japanese airspace.
Japanese defense officials said this is the first time that Chinese fighter jets have passed through the area, according to local media.
The People's Liberation Army said it sent warplanes over the Western Pacific to practice surveillance, coordination and in-flight refueling. The drill was part of China's effort to assert its control over parts of the East China Sea, which it designated its Air Defense Identification Zone (ADIZ) two years ago.
ADIZ declaration means that China expects all aircraft traveling through its airspace to identify themselves with Beijing's traffic regulators. Japan was among the nations, which condemned the move, which they saw as an attempt by China to boost its power in the Asia-Pacific region.
China's relations with Japan have been marred by a longstanding dispute over a string of islets in the East China Sea, known in China as the Diaoyu and in Japan as the Senkaku.
Earlier this month, Chinese warplanes flew through the Bashi Channel that separates Taiwan and the Philippines, two other regional players unsettled by China's growing military capabilities.
You can share this story on social media: