Okinawa villagers sue authorities for construction of 'unlivably loud' US helipads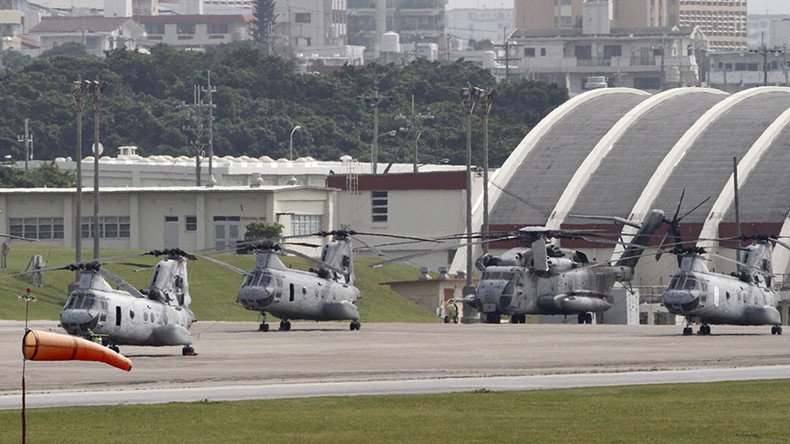 Two Okinawa villages filed a lawsuit last week against the local government after it allowed US military construction of two heliports on the only virgin forest remaining in Okinawa Prefecture, home of a US base in Japan.
While the government maintains that the completion of helipads will benefit the people of Okinawa, after months of protests, the villages of Higashi and Kunigami around the Northern Training Area have filed a lawsuit at the Naha District Court, citing noise complaints.
The two helipads, which were completed in 2014, are currently being used by the US Marines. Helicopters taking off and landing at these two sites cause constant noise pollution, the villagers say.
"If and when all of [the helicopter landing zones] are completed, this entire community of 150 residents will become unlivable," Yukine Ashimine, 45, was quoted by military.com
"Ospreys fly so low over our home every day until almost 11pm at night," she said. "We, those who raise our voice by joining in the litigation, may be small in number, but I am certain that it is the unanimous wish of all of the residents that the construction of the helipads is stopped."
Besides seeking damage for the inconvenience, the suit filed last week on behalf of 33 plaintiffs seeks a provisional injunction to suspend construction on the other helipads in Okinawa Prefecture. Work to build four helipads has been ongoing since July after it was previously suspended due to local opposition.
The construction of new military infrastructure is being carried out as part of US plans to return some 4,000 hectares (9,900 acres) of land in the prefecture to Japan. The helipad project is based on a bilateral agreement signed in 1996 that stipulates the return of land to Japan on the precondition that six helipads, each 75 meters in diameter, are built in the middle of the forest to replace those currently used by US troops.
The return of part of the Northern Training Area would be the United States' largest handover to Japanese control since 1972, but because Japan has failed to build the required number of helipads, the handover has languished for two decades.
WATCH MORE:
You can share this story on social media: