Explosive-laden ISIS drone kills 2 Kurdish fighters, injures French commandos – reports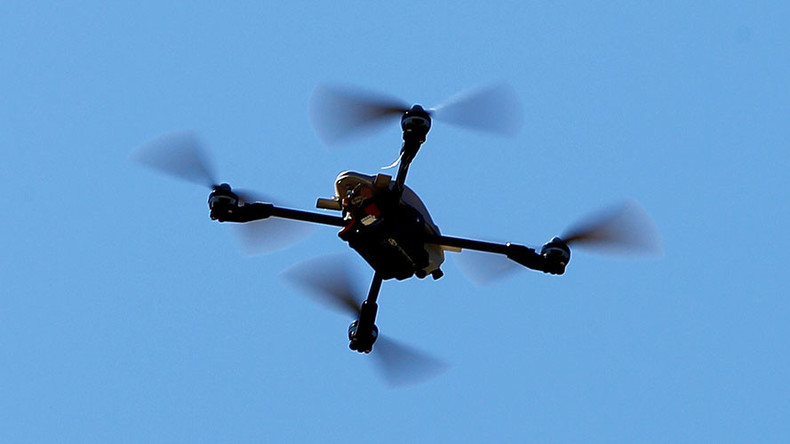 A terrorist drone has killed two Kurdish fighters in Iraq. A further two French soldiers also suffered injuries in the incident after the anti-ISIS coalition intercepted the unmanned aerial vehicle which, to their surprise, had been packed with explosives.
The incident allegedly happened on October 2, in Erbil, the capital of Iraqi Kurdistan where French troops from Task Force Hydra have been fighting alongside Kurdish Peshmerga fighters against Islamic State (IS, formerly ISIS/ISIL) terrorists for two years now, Le Monde and The New York Times reported.
While the incident has not yet been confirmed by authorities, both publications reported that two French commandos were wounded after the French-Kurdish unit intercepted a flying drone, allegedly sent by a group linked to IS.
Details of the incident remain unclear, but it is believed that the booby-trapped drone, the size of a model airplane, exploded on the ground when the anti-IS unit tried taking the object apart.
"The explosive device inside was disguised as a battery – there was a very small amount of explosives in it, but it was enough to go off and kill them," a senior American official who had been provided with a detailed report about the blast, told NYT.
Two Kurdish fighters died in the blast. The wounded French soldiers, one of whom was in critical condition, were immediately sent to France to be treated at the Percy-Clamart military hospital near Paris.
Later on Wednesday, French government spokesman Stéphane Le Foll confirmed that two members of the French special forces were injured in the attack, Reuters reported.
While IS has been known to use surveillance drones to scoop out its enemies, the incident is being marked as the first time IS has successfully used a drone with explosives to kill troops fighting against them.
Drones are fast becoming IS' weapon of choice when launching remote attacks. According to NYT, the October 2 attack was the third one in recent weeks. On October 1, Iraqi troops shot down a small drone with an explosive attached to the top. Last week, an explosive-laden drone was dispatched to a checkpoint. While the blast failed to cause casualties, it did destroy buildings.
The US is handling the drone threat seriously, according to NYT, with the Central Intelligence Agency and the Defense Intelligence Agency both assessing the danger level. The Secretary of the Army, Eric Fanning, even recently assigned a special office to respond to emerging threats and to study how to stop drones.
READ MORE: Anti-drone shield system revealed at London defense expo (VIDEO)
The Defense Advanced Research Projects Agency (DARPA) is also seeking designs to a laser system that can defend America from rogue miniature drones, Popular Science magazine reported in August.
In Particular DARPA is on a task to come up with "Mobile Force Protection" systems capable of identifying "novel, flexible, mobile layered defense systems and component technologies that could be leveraged to improve force protection against a variety of sUAS threats and tactics, could be fielded within the next three to four years, and are structured to rapidly evolve with threat and tactic advancements."