US urges Ankara to respect Iraqi sovereignty, resolve illegal troop deployment issue
Published time: 12 Oct, 2016 00:54
Edited time: 12 Oct, 2016 21:30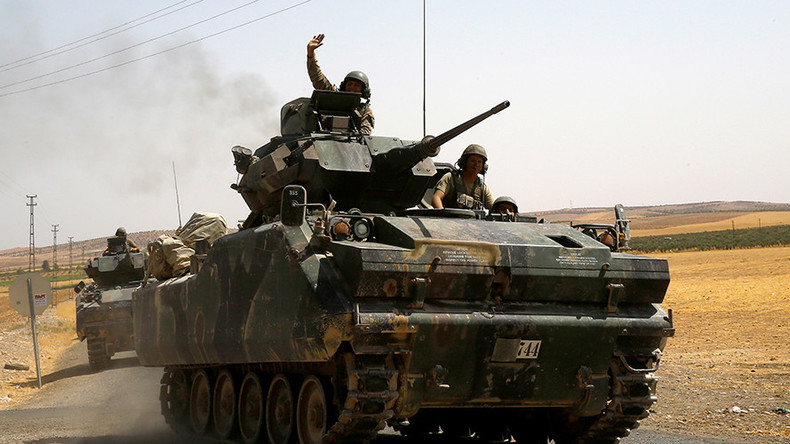 Washington has urged Ankara and Baghdad to work out their differences over the illegal deployment of Turkish troops in the north of the country. Turkey's president previously harshly rejected criticism from the Iraqi PM saying he was not in a position to make demands.
On Tuesday, Ankara escalated belligerent rhetoric towards its neighbor which has repeatedly asked Turkey to withdraw its forces from Northern Iraq's Bashiqa camp.
Tensions between the two neighboring countries escalated last December after Turkey beefed up its military presence on the outskirts of jihadist-controlled Mosul, allegedly to protect its advisers. Iraq called the unsanctioned move a "blatant violation" of sovereignty and demanded the immediate withdrawal of Turkish forces from its territory.
READ MORE: Iraq demands that Turkey pull its 'occupying' troops out of military base near Mosul
Anaka refused and has long argued that its forces in Northern Iraq have been instrumental in the US-led anti-ISIS (IS, formerly ISIS/ISIL) coalition, known as the Combined Joint Task Force (CJTF). Since 2014, Turkish servicemen provided training to anti-IS fighters, subject to the agreement of the Iraqi government.
The issue of the Turkish presence in Iraq has gained new attention when last month the Turkish parliament approved the extension of the mission to target what it considers to be terrorist organizations, namely the IS and the Kurdistan Workers' Party (PKK) based in Turkey and Iraq.
Iraq condemned the extension of the mission with Iraqi Prime Minister Haider al-Abadi warning of a regional war unless Turkey pulls out. Last week Iraq requested an emergency United Nations Security Council meeting to discuss the issue.
On Tuesday, during a speech in Istanbul, Turkish President Recep Tayyip Erdogan once again said that Turkey would keep its forces at a base near Mosul, in the country's north. Erdogan explicitly said that Ankara wouldn't take orders from Baghdad and would remain there to help retake Mosul from the extremist group.
"Turkey cannot intervene against the threats right next to it? We will never accept this ... we don't need permission for this, and we don't plan on getting it," Erdogan said.
"Turkey's army hasn't lost enough of its quality to take orders from you," Erdogan stated regarding Iraq's call for troops withdrawal. "We would do whatever is necessary as we have done until today."
Erdogan's remarks became extremely personal when he told Iraqi Prime Minister al-Abadi to "know his limits" when criticizing neighboring forces in his country.
"The Iraqi prime minister is insulting me, first know your limits," Erdogan said. "You are not my interlocutor, you are not at my level, you are not my equivalent, you are not of the same quality as me."
"Your screaming and shouting in Iraq is of no importance to us. You should know that we will go our own way," the Turkish president said.
In reply to Erdogan's comments, the Iraqi PM tweeted, "we are not your enemy and we will liberate our land through the determination of our men and not by video calls."
As the battle for Mosul looms, with a major Iraqi government offensive to retake the city of 1.5 million residents expected later this month, Washington has once again reiterated that Turkish actions are out of line with the CJTF.
"All of Iraq's neighbors need to respect Iraqi sovereignty and territorial integrity. The Turkish forces that are deployed in Iraq are not there as part of the International Coalition. The situation in Bashiqa is the matter for the governments of Iraq and Turkey to resolve," US State Department spokesman John Kirby told reporters, disregarding America's involvement in Syria, which too is a violation of Syrian sovereignty, as Damascus never invited American troops.
The same US government stance was reiterated by a Pentagon spokesperson in an interview with the CNN, who told both governments to focus on their common enemy – IS.
"It is imperative for all parties over the coming days and weeks to closely coordinate next steps to ensure unity of effort in our counter-ISIL fight," said Matthew Allen.
Despite US efforts to reconcile its partners, Iraq refuses to accept a Turkish presence in the country, viewing Turkish troops in Iraq as a security threat in the region.
"Turkey does not respect the mutual interests of both neighboring nations. This could lead to a security threat in the Kurdistan Region, Iraq and the wider region in general," a spokesperson for Iraqi Prime Minister, Saad Hadithi told Rudaw on Tuesday.
The spokesperson added that the recent escalation in relations on behalf of Turkey is "not justifiable," and raises questions over Turkey's "intention in standing with Iraq in the war on terror."
Hadithi again reiterated that the Turkish troops in the country are there "without request, consent or coordination with the Iraqi government," and therefore will not take part in liberating Mosul which has been under ISIS yoke for two years now.
"Turkey cannot have any role in the Mosul liberation – neither military, on the ground, or operational," the spokesman said.