US-South Korea naval drills reportedly include rehearsal of Kim Jong-un assassination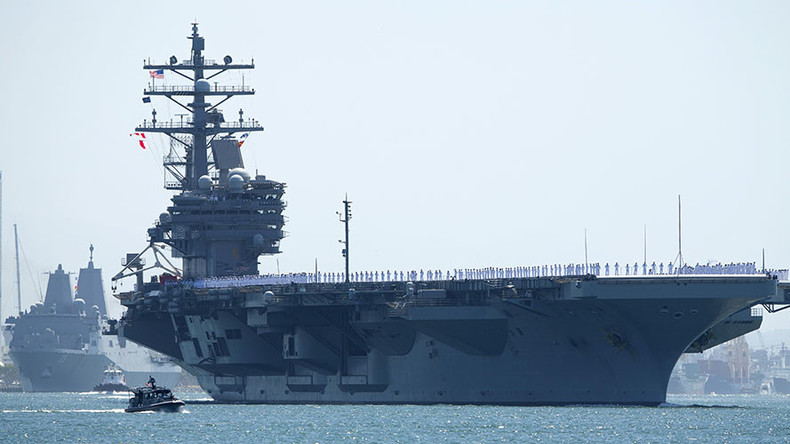 Joint US-South Korea naval drills will involve the nuclear-powered USS Ronald Reagan aircraft carrier and will see both militaries rehearse strategies to kill North Korean leaders in the event of attacks by Pyongyang, a Defense Ministry official has said.
The Invincible Spirit naval exercises, which started on Monday, will run for six days and will see drills take place in the Sea of Japan and Yellow Sea.
A South Korean defense spokesperson said in a statement the drills will involve ship-to-ground and submarine-to-ground cruise missile exercises with average flight ranges of up to 1,000km.
The exercises are taking place amid reports North Korea is preparing to test a sixth nuclear bomb or another long-range missile.
The USS Ronald Reagan, which is based in Kanagawa, Japan, is the flagship vessel of Carrier Strike Group 5 and will join dozens of warships and submarines for the large-scale naval exercises, the first of their kind since July 2010.
Plans to take out North Korean leaders in the event of a strike by Pyongyang will also be practiced, a South Korean Defense Ministry official told the Yonhap news agency.
"The 'Invincible Spirit' exercise has put a bigger focus on striking North Korea's key nuclear and missile facilities. The change comes after the North's fifth nuclear test last month," the official said.
The Korea Massive Punishment and Retaliation strategy would directly target key sites in the North, including its war command post, atomic sites and leadership, such as Kim Jong-un.
The plan would also involve special operations forces, the official said.
Pyongyang claimed to have conducted its fifth atomic test last month, triggering a 5.3 magnitude tremor near the detonation site.
US President Barack Obama responded by saying the test would have "serious consequences" and repeated America's "unbreakable" commitment to the security of South Korea and Japan.
Shortly after, the US and South Korea conducted joint naval exercises in the Sea of Japan and flew two supersonic bombers over the South.
One of the B-1B aircraft flew the closest a bomber had ever flown to the Demilitarized Zone (DMZ) separating the North and South.
The US has 28,500 troops stationed in South Korea and approximately 50,000 based in Japan.