US-South Korea 'preemptive attack simulation' drills enrage Pyongyang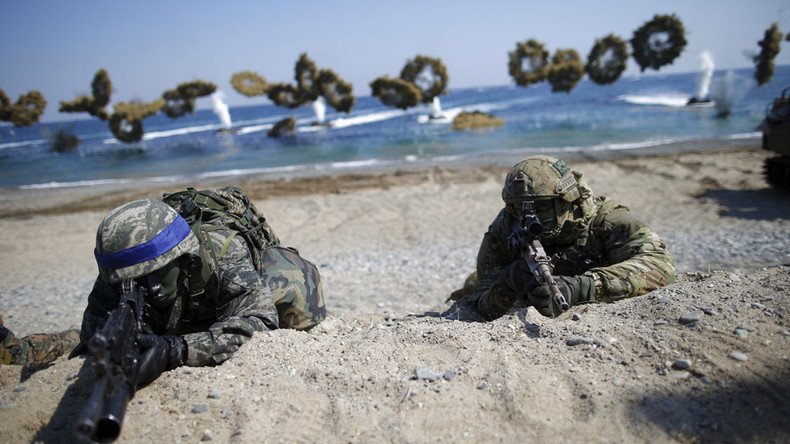 Pyongyang has lashed out against an annual US-South Korean military drills deal under a recently-updated wartime operational plan, which reportedly involves the preemptive annihilation of North Korea's key military and nuclear facilities as well as its top leadership.
The Ulchi Freedom Guardian military drills that were launched on August 22, with the participation of a 50,000-strong South Korean contingent as well as 25,000 American soldiers, also involved nine other countries, including Australia, Canada, Colombia, Denmark, France, Italy, the Philippines, UK, and New Zealand.
The US and its allies continue to insist that all military drills on the Korean Peninsula are defensive in nature and are meant to deter the potential aggression of North Korea, which recently carried out its fourth nuclear test and has executed more than 10 ballistic missile tests this year.
"The two-week exercise helped strengthen the allies' crisis management abilities and joint readiness posture. They are more prepared to fight tonight in case North Korea makes any provocative moves," South Korean defense ministry official said, Yonhap reported.
"But this time, the drill reportedly included a training drill that outlines possible pre-emptive attacks on the North's nuclear and missile facilities," the official added.
The drills' beginning sparked initial condemnation from the North, which promised to nuke the allies if they threaten Pyongyang's sovereignty. In a protest against the drill, North Korea test-fired a submarine-launched ballistic missile two days later. Just before the US-led drills concluded, the North issued a white paper once again denouncing the drills.
The North called the exercise a "hideous hostile policy" pursued by the US to bring Pyongyang under control "by force."
"Ulji Freedom Guardian is all directed to realizing this scheme for a preemptive attack," the white paper said, KCNA reported. "It aims at mounting a surprise preemptive nuclear attack on the DPRK once an opportunity is offered as huge nuclear war troops have already been introduced."
Pyongyang does have legitimate grounds for concern, as the allies practice Operations Plan (OPLAN) 5015, which envisages a preemptive full-scale strike on North's core military facilities and weapons as well as its top leaders in case of a military confrontation. It differs from the previous OPLAN 5027 roadmap, which was based on retraction, realignment and striking back.
The North warned that if "US imperialist and South Korean puppets" resort to any other nuclear war exercises "they will face most merciless and miserable end."
You can share this story on social media: