S. Korean helicopter crashes during 'show of force' snap drills with US navy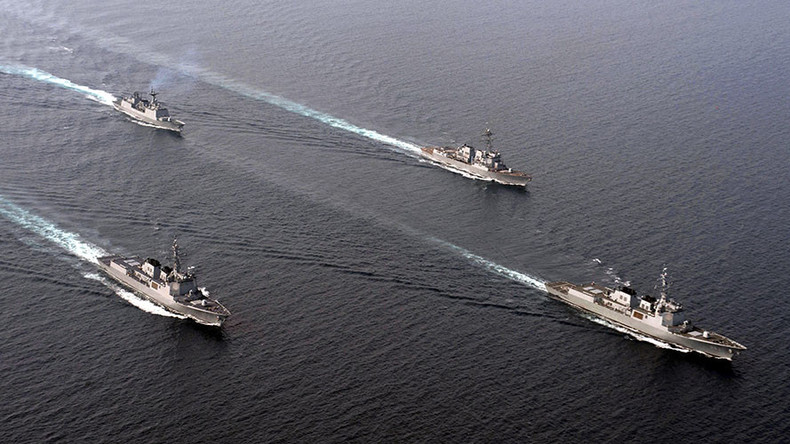 The South Korean military has apparently lost a helicopter during a surprise exercise with US warships in the East China Sea staged as the latest show of military might and readiness to counter "North Korea's unprovoked acts of aggression."
One of South Korea's helicopters taking part in the snap exercise sent out a distress signal and reportedly crashed into the sea at around 12:00 GMT on Monday, AFP reports, citing the Defense Ministry in Seoul. Search efforts are continuing to locate the three crew members who were onboard.
The drills were the first joint exercise by South Korean and American navies staged on top of routine exercises by the allies, Yonhap news agency reported.
The two Navies said in a statement earlier that it was necessary to send a strong message to North Korea after it conducted its fifth nuclear test and fired three ballistic missiles into the East China Sea earlier in September.
The US-South Korean maneuvers included live fire drills, anti-submarine warfare and precision strike training against targets on land.
The US Arleigh Burke-class guided-missile destroyer USS Spruance and US P-3 patrol aircraft as well as South Korea's Navy's Aegis destroyer Yulgok YiYi, submarines, and anti-submarine helicopters participated in the drills.
"We work side-by-side with our ROK (Republic of Korea) partners every day; we are by their side today at sea, and we will remain by their side to defend against North Korea's unprovoked acts of aggression," Rear Adm. Brad Cooper, commander of US Naval Forces Korea, said in the statement.
The US and South Korea will always be ready to counter any aggression and deliver defeat to the enemy to ensure stability on the Korean Peninsula is maintained, said Vice Adm. Lee Ki-sik, commander of South Korea's Fleet.
READ MORE: 'Pyongyang will be ashes': Seoul draws up plan to counter N. Korea in case of war – report
Earlier this week, the US Air Force has flown two supersonic B-1B Lancer bombers over South Korea in a show of force toward Pyongyang.
In late August, the South Korean and US forces held a massive exercise, Ulchi Freedom, which involved a 50,000-strong South Korean contingent as well as 25,000 American soldiers.
The North has always reacted nervously to joint drills by its rivals, calling them a rehearsal for an actual attack on the country and "a clear manifestation of a vicious plot" not only to conduct nuclear strikes, but to "enslave" North Korea. Pyongyang also threatened that the "US imperialists" and the "South Korean puppet group" will be smashed "with nuclear hammers of justice."