'Angry men ripe for radicalization': EU prisons are breeding grounds for terrorists – report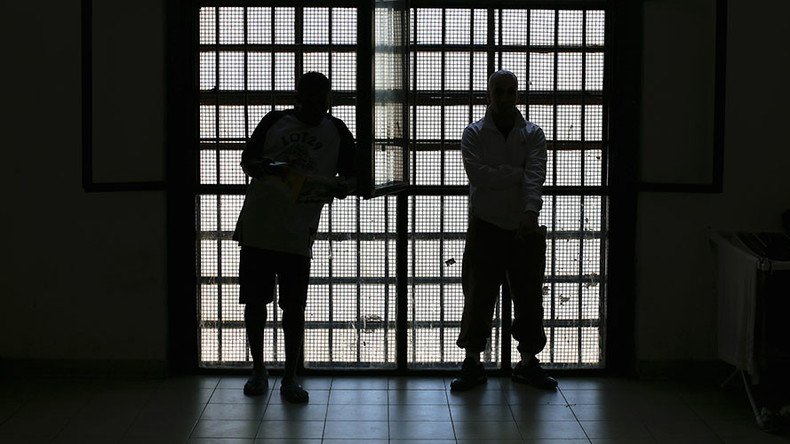 European prisons have become 'breeding grounds' for extremist movements, a report by a UK think tank said, adding that in jails, jihadists are able to find plenty of "angry young men" who are "ripe" for radicalization.
The report titled "Criminal Pasts, Terrorist Futures: European Jihadists and the New Crime-Terror Nexus" by London-based International Centre for the Study of Radicalisation and Political Violence (ICSR) was released on Tuesday.
The authors of the report said they made a database containing the profiles of "79 recent European jihadists with criminal pasts."
.@PeterRNeumann: Un-orderly and unsafe prisons help create conditions for jihadist recruitment. Also lack of prison-provided mainstream imam

— ICSR (@ICSR_Centre) October 11, 2016
"Fifty-seven percent of the individuals in our database (45 out of 79 profiles) had been incarcerated prior to their radicalisation, with sentences ranging from one month to over ten years, for various offences from petty to violent crime."
The document adds that at least 27 percent of those who spent time in prison [12 out of 45 profiles] "radicalized there, although the process often continued and intensified after their release.
"Given the recent surge in terrorism-related arrests and convictions, and the rapidly expanding number of convicted terrorists in custody, we are convinced that prisons will become more – rather than less – significant as 'breeding grounds' for the jihadist movement."
According to the report, prisons are "places of vulnerability" where jihadists can find "plenty of 'angry young men' who are 'ripe' for radicalization.
"They [the prisons] bring together criminals and terrorists, and therefore create opportunities for networking and 'skills transfers'; and they often leave inmates with few opportunities to re-integrate into society."
The document notes that terrorist networks, in particular Islamic State (IS, formerly ISIS/ISIL), are "well-aligned with the personal needs and desires of criminals, and that it can be used to curtail as well as license the continued involvement in crime.
"For up to ten of the individuals in our database, we found evidence for what we termed the 'redemption narrative': jihadism offered redemption for crime while satisfying the same personal needs and desires that led them to become involved in it, making the 'jump' from criminality to terrorism smaller than is commonly perceived."
The study also found that up to 40 percent of terrorist plots in Europe are partially financed via 'petty crime,' especially drug-dealing, theft, robbery, the sale of counterfeit goods, loan fraud, and burglaries.
"Based on our database, jihadists tend to continue doing what they are familiar with, which means that terrorist financing by criminal means will become more important as the number of former criminals is increasing."
Thus, the line between crime and extremism is becoming "increasingly blurred," ICSR director Peter Neumann, one of the report's authors said, as cited by AFP.
"Prison is becoming important as a place where a lot of networking happens," he said. "A lot of these people have already been convicted of violent crime, so the jump to being a violent extremist is not so big."
The problem of criminals being radicalized in prisons was raised by France's Justice Minister Jean-Jacques Urvoas earlier in October. According to the minister, at least 1,300 French citizens imprisoned on common criminal charges have become radicalized in jail. Urvoas said that he does not yet know what to do with those radicalized individuals.
You can share this story on social media: