Syrian refugees capture bomb plot suspect, hand him over to German police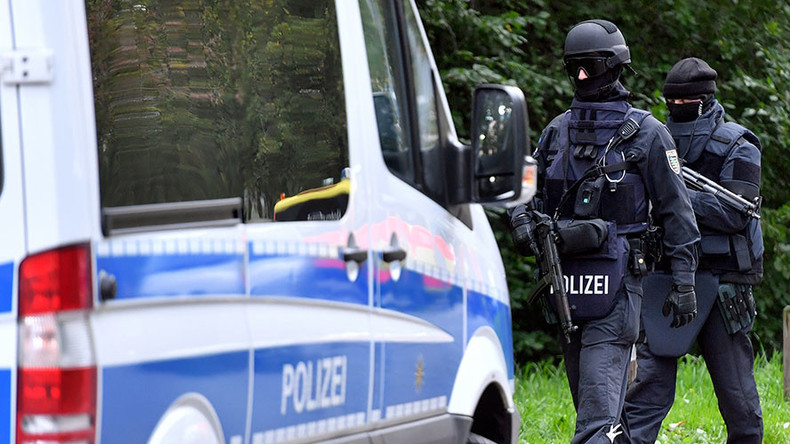 A 22-year-old suspected of plotting a bomb attack, who was the subject of a two-day manhunt in Chemnitz, an eastern German town, was overpowered and tied up by three fellow countrymen, who turned him in to the police after discovering his identity.
The bomb plot suspect identified as Jaber Albakr had been at large since Saturday, when German police officers tried to capture him in the eastern town of Chemnitz. Some reports say the 22-year-old managed to escape his apartment right under the noses of the police raiding it.
"Tired but overjoyed: we captured the terror suspect last night in Leipzig," Saxony police said on Twitter on Monday.
📢NEWS: Tired but overjoyed: we captured the terror suspect last night in Leipzig❗️

— Polizei Sachsen (@PolizeiSachsen) October 10, 2016
Saxony's criminal police chief, Joerg Michaelis, said later on Monday that Albakr was recognized by three other Syrians whom he had asked for an overnight stay. Michaelis confirmed earlier media reports, saying that the Syrians had tied Albakr up and held him in their apartment in the city of Leipzig.
One of them brought a photo of Albakr to a local police station, leading to the suspect's arrest, according to Reuters. "The suspect was handed over to us bound," the police chief said.
Initially, police said on their official Facebook page that one or more Syrians helped detain the suspect, but gave no details "because we do not want to provoke any dangers for those persons who gave us the tip."
On Sunday, police said the dragnet to find Albakr in Chemnitz had ended in "total failure" due to poor coordination between various units and Special Forces teams, Focus magazine reported.
Ulrike Demmer, a spokeswoman for Chancellor Angela Merkel, expressed the government's gratitude to police and security services, and specifically mentioned the man from Syria who helped detain Albakr.
"Our thanks and recognition also go to the man from Syria who told the police where the suspect was and contributed decisively to the arrest," Demmer said.
Possible ISIS connections
Albakr's "behavior and conduct" suggest his links to Islamic State (IS, formerly ISIS/ISIL), Michaelis told reporters on Monday, adding that he had apparently been creating "an explosive device, possibly in form of a suicide belt."
Germany's interior minister said it appears that Albakr was planning to carry out terror attacks similar to those in Brussels in March and in Paris last year.
"According to what we know, the preparations in Chemnitz are similar to the preparations for the attacks in Paris and Brussels," de Maiziere was quoted as saying by Reuters.
German federal prosecutors said they have no evidence at this point indicating that Albakr had a designated target for an attack, but they do know conducted an online search for instructions on making explosive devices and "equipment for jihad" since the beginning of the month.
Albakr is suspected of plotting a terror attack in Germany with exactly the same kind of homemade explosive, TATP, which was used in the Paris and Brussels bombings, forensics experts say. Three other Syrians were arrested in the operation to detain him. Two were subsequently released, but the third is still in custody.
Investigators found several hundred grams of "highly sensitive explosive" that was hidden in the house, an amount sufficient to cause significant damage. The explosives were destroyed by bomb disposal experts in a controlled detonation outside the building, as they were deemed too dangerous to transport.
A security source told Focus that the operation to detain Albakr involved tip-offs from Germany's domestic intelligence agency, the BfV, but the federal police and the prosecutor's office had failed to take action on Friday evening.
The Saturday operation might have been more successful had Germany's elite counter-terrorism unit, the GSG 9, taken the leading role.
The Chemnitz operation is likely to add more fuel to the heated debate over the number of migrants that Germany takes in on a regular basis. Authorities say that Albakr came to Germany in the flood of over 1.1 million refugees that entered the country in 2015.
In July, two attacks carried out by refugees, in which multiple people were injured and the assailants were killed, were claimed by Islamic State. Two separate attacks not related to Islamists, including a deadly mall shooting in Munich, took place weeks later.
You can share this story on social media: