Attacker wielding chainsaw & ax kills woman in Minsk shopping mall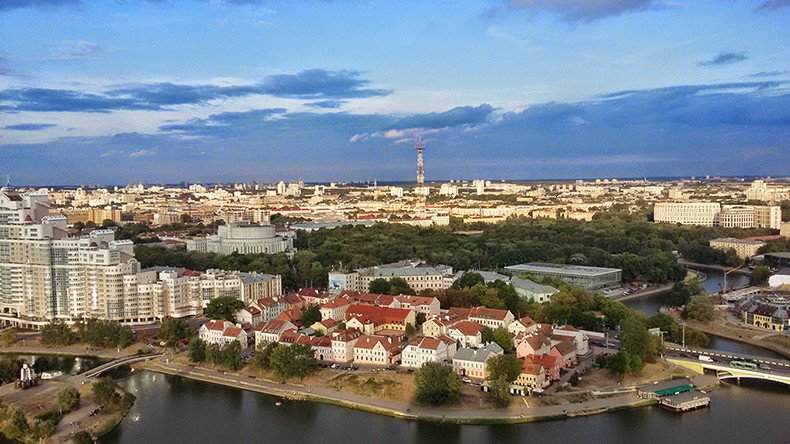 An 18-year-old man has been detained after a gruesome chainsaw and ax attack in a shopping center in the Belarusian capital which left one woman dead and another injured.
"The suspect is a citizen of Belarus, born in 1998 and currently living in Minsk," police chief Alexander Barsukov was quoted as saying by Interfax. "He is now being interrogated at a police station in the capital."
The suspect, armed with an ax and a chainsaw, reportedly entered the Europe shopping center in central Minsk through a back door before attacking a group of young women sitting outside a pizzeria at around 17:40 local time. One of the women was killed while another was wounded by the chainsaw. To some witnesses, it appeared that the murdered woman may have been decapitated.
"He was some kind of madman," an eyewitness told the website Onliner.by. "He lashed out at the first person he saw and cut off her head."
The man then produced his ax and began threatening other people. Witnesses described crowds fleeing the scene while being pursued by the masked, ax-wielding assailant.
One Twitter user told of seeing a woman lying in the lobby covered in blood.
@tutby@mc_maxim тц Европа
Человек забежал с бкнзопилой и топором и начал резать людей
Девушка лежит в крови в холле на первом этаже

— Eliz Zheltok (@Eliz__Davis) October 8, 2016

Another eyewitness claimed she saw the attacker holding an automatic weapon as well.
Police spokesman Alexander Lastovsky earlier confirmed that two men were arrested, although the role of the second man is yet unclear.
So far, no motive for the attack has been established. Terrorist attacks and indiscriminate killings are relatively rare in Belarus, although a bombing on the Minsk Metro in April 2011 claimed 15 lives.
You can share this story on social media: