ISIS-linked terror cell foiled in southern Russia, 3 terror plots thwarted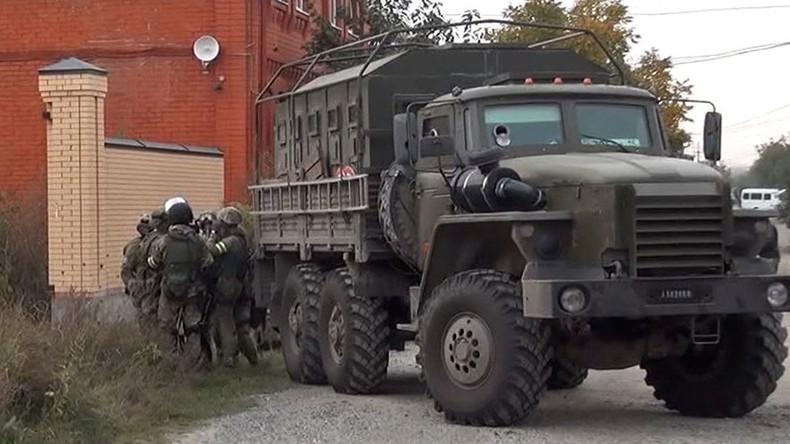 A militant cell suspected of having links to Islamic State has been eliminated in southern Russia, the National Anti-Terrorist Committee (NAC) reports. The group was planning at least three terror attacks in the region, including one on a Muslim Holiday.
In a special operation in the Republic of Ingushetia on Friday, Russia's security forces killed six militants in the city of Nazran and the village of Gazi-Yurt in the North Caucasus Region. One of the militants was identified as an agent of the Islamic State (IS, formerly ISIS/ISIL) terrorist group, according to NAC. Regional authorities say two of the militants have been identified so far.
"As a result of the coordinated and purposeful work of the Russian special services, a large terrorist cell, which was headed by an agent from Syria, has been dismantled today. Upon his arrival in Ingushetia, he intended to organize subversive and terrorist acts here that would destabilize the situation and sow fear among the population. However, he himself, and his accomplices, whom he attracted to this criminal purpose, are now eliminated," the head of the republic, Yunus-Bek Yevkurov said in a statement, adding that the culprits planned to carry out at least three major terror attacks in Ingushetia.
READ MORE: RT traces the trail of 2 Russian sisters believed to have joined ISIS in Syria (EXCLUSIVE)
"One of the planned attacks was set for the festival of the Peoples of the Caucasus, and they also planned to carry out attacks on the sacred Muslim Eid al-Adha holiday (the Feast of Sacrifice), for which they had prepared the required amount of explosives, weapons, and ammunition," Yevkurov detailed.
READ MORE: 180,000 Muslims celebrate 'Feast of Sacrifice' in Moscow (PHOTOS, VIDEO)
The official also said that the authorities had negotiated with the militants prior to the raid, repeatedly giving them the opportunity to lay down their arms and surrender, RIA news agency reported. He noted that Ingushetia authorities hold meetings with the families of those who are known to be part of illegal armed groups on a monthly basis and try to persuade them to stop their illegal activities through their relatives.
"Those who do not want to understand it and fail to stop their subversive activities will be arrested or killed on the spot," the official said.
This is not the first terror plot to be foiled in the southern republic. In August of this year, law enforcement averted a plot to blow up a mosque and assassinate an imam in Ali-Yurt village. In May, another militant cell with suspected links to IS in possession of a "large weapons cache" was liquidated in the Republic's Nazran District.
You can share this story on social media: