As many as 44 Afghan troops go missing while on US military training visits – Pentagon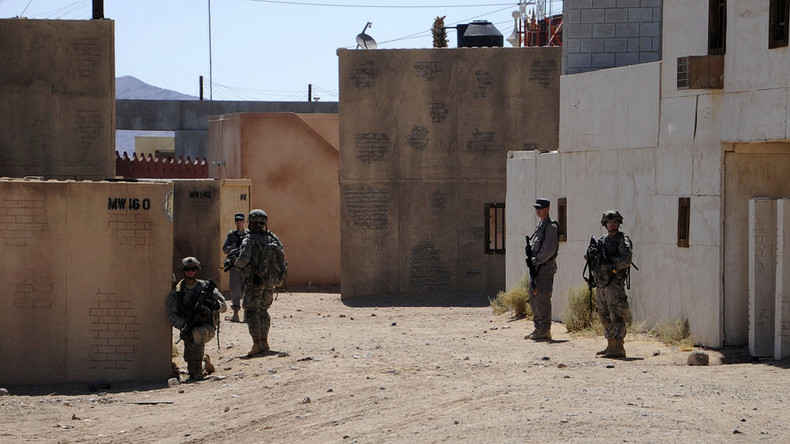 In an effort to find illegal work and settle permanently in America, at least 44 Afghan troops visiting the US for military training have gone missing since January 2015, Pentagon officials said. It raises concerns about procedures for such programs.
Eight Afghan troops have left military bases without authorization since September alone, Pentagon spokesman Adam Stump told Reuters, disclosing the total number of Afghan troops who have gone missing for the first time.
"The Defense Department is assessing ways to strengthen eligibility criteria for training in ways that will reduce the likelihood of an individual Afghan willingly absconding from training in the US and going AWOL [absent without leave]," Stump said.
The Afghan Army has previously been occasionally infiltrated by Taliban militants who carried out attacks on Afghan and US troops. Rogue shootings of foreign troops claimed lives of nearly 40 soldiers in several dozen attacks in 2012.
Before being allowed into the US, Afghans are carefully vetted for security reasons, to make sure they have not been involved in human rights abuses and are not affiliated with militant groups, the Pentagon spokesman said.
Some 2,200 Afghan troops have received military training in the United States since 2007. Other foreign troops on US military training visits have sometimes run away too, but a US defense official, who spoke on condition of anonymity, said that the frequency of Afghan troops going missing was concerning and "out of the ordinary."
According to the official, there was no evidence any of those who had run away had carried out crimes or posed a threat to America.
Since 2002, Washington has earmarked over $60 billion "to build, equip, train, and sustain" the Afghan troops, a quarterly report by the US Special Inspector General for Afghanistan Reconstruction (SIGAR) said in late July. Money has failed to buy security, however, with the internal US report saying that the NATO-trained Afghan military only controls about two-thirds of Afghanistan's districts and keeps losing territory to the Taliban.
The US mission in Afghanistan has dragged out much longer than originally anticipated, with President Barack Obama canceling the initial plan to withdraw the majority of troops in 2014 in exchange for a blueprint to scale back forces by early 2017.
America's combat mission in Afghanistan "came to a responsible end" a year-and-a-half ago, Obama said in July. Forces there are now focused on "two narrow missions": training and terrorism prevention. "But even these narrow missions continue to be dangerous."
In July this year, Washington announced that the US will leave 8,400 troops through the end of the Obama administration, citing an increase in Taliban attacks.
Low morale and lack of training to fight the Taliban could partially explain dozens of the troops leaving.
"They face a formidable enemy, with very limited resources and many Afghan troops aren't getting paid on time," Michael Kugelman, a South Asia specialist at the Woodrow Wilson Center, a Washington think tank, told Reuters.
The US bears full responsibility for the deteriorating situation in Afghanistan, Zamir Kabulov, who served as Russian envoy to Afghanistan in 2004-2009, said earlier this month.
Washington "cut back their presence [in Afghanistan] and did not resolve a single issue and created more problems. They carry political and moral responsibility for what is taking place in Afghanistan now," he noted.