Portugal's ex-PM Guterres favorite to become new UN Secretary General
Former Prime Minister of Portugal Antonio Guterres is set to be chosen as the new UN Secretary General after none of the five UN Security Council (UNSC) veto-powers voted against his candidacy in a secret ballot, reports indicate citing diplomatic sources.
The sixth secret ballot took place on Wednesday behind closed doors. It included all five permanent UNSC powers (Russia, US, UK, China and France) as well as 10 non-permanent members.
Read more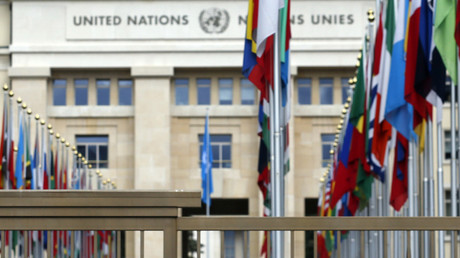 During the ballot, each country's representatives voted "encourage, discourage or no opinion" for each of the 10 candidates currently on the list.
While the process of choosing a new UN chief is called an election, any candidate can be ruled out if any of the UNSC permanent members votes against him or her. However such a vote is then taken into account in further negotiations.
According to Reuters, Gutteres received 13 "encourage" and only two "no opinion" votes.

"Today after our sixth straw poll we have a clear favorite and his name is Antonio Guterres," Russian Ambassador to the UN Vitaly Churkin was quoted by the news agency as saying.
After getting a green light from the UNSC, Guterres now needs to be formally recommended to the 193-member General Assembly where his candidacy is likely to be approved.

A formal vote, according to Churkin, who is currently serving as the Security Council's president, will take place on Thursday in New York at around 10 a.m. local time.
"We have decided to go to a formal vote tomorrow morning at 10 o'clock, and we hope it can be done by acclamation," Churkin said.
Guterres served as prime minister of Portugal from 1995 to 2002. He also held the post of UN High Commissioner for Refugees from June 2005 until December 2015.
Gutteres is poised to replace the current UN Secretary General Ban Ki-Moon, who assumed office in December 2007 and will give up his presidency by the end of 2016 after having served two five-year terms.