Indian generals eye six-month campaign in Pakistan-controlled Kashmir – report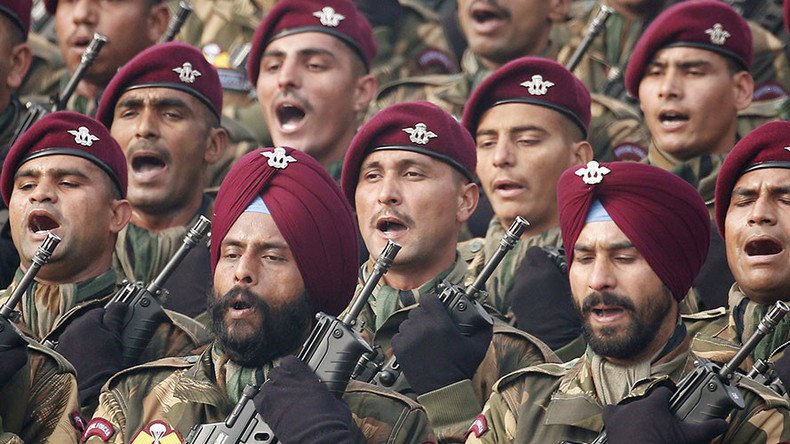 Amid rising Pakistani-Indian tensions over the disputed Kashmir region, Indian generals are reportedly calling on the government to approve a sustained six-month campaign to destroy "terrorist infrastructure" on the Pakistani side of the de-facto border.
"We have to look at a sustained campaign. The terror network is on the back foot, but to really achieve something, we have to look at a medium-term plan, a six-month campaign. A one-off event will not deter them," a top Indian Army official was quoted by Times of India as telling the country's government.
The suggestion comes at a time of rising tensions over Kashmir, a mountainous border area that India and Pakistan have been disputing for seven decades. Each party controls part of the region, while claiming sovereignty over all of it. Two of the three wars that the two nations have fought were over Kashmir.
Tensions flared two weeks after a militant attack on an Indian camp left 19 border guards dead. The Indian Army reported launching "surgical strikes against terrorists" last Thursday across the Line of Control (LoC), the militarized de-facto border between the two parts of Kashmir. Pakistan denied that the incursion had occurred, claiming that cross-border shelling from India had killed two Pakistani soldiers.
The situation escalated further after India reported yet another attack in Kashmir that targeted the camp of India's 46 Rashtriya Rifles in Baramulla on Sunday evening, triggered an Indian manhunt for at least six gunmen involved in the raid, who had retreated under cover of darkness, according to Indian reports.
According to the Times of India report, Indian generals say they have an opportunity to destroy 40 militant "launch pads" hosting over 200 troops if they are given the green light for the operation.
"We have the opportunity right now. Everyone is geared up and we have a much stronger hold on LoC than the other side. This is the time to make an actual difference that will deter cross-border terror support," an Army official reportedly said.
You can share this story on social media: