Heavy fighting erupts as Taliban enters northern Kunduz in repeat of 2015 victory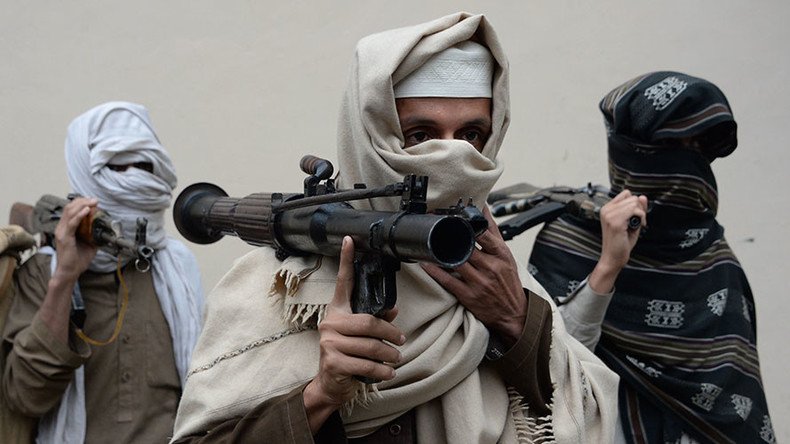 Taliban fighters are engaged in a coordinated assault on the city of Kunduz in an apparent attempt to repeat 2015's breakthrough success, which resulted in its brief capture. There are concerns about the group making huge military strides again.
The midnights attack on the northern city, the capital of Kunduz Province, took place from four directions, and according to Reuters, fighting continued Monday morning in and around the city. Military helicopters and ground troops were engaged in heavy fire, as the city was deserted of its inhabitants, with businesses closed everywhere.
"We are putting all our efforts together to push them back," a police commander in Kunduz, Sheer Ali Kamal, told the agency.
Reuters reported at least five Taliban fighters engaged in machine gun fire with police inside the city. There was also heavy weaponry involved, including RPGs. The Taliban have corroborated this, boasting of having captured four checkpoints on the way to the city, killing a number of Afghan soldiers.
"A massive operation started on Kunduz capital from four directions early this morning," their spokesman said on Twitter.
The attack comes just ahead of a major donor conference in Brussels, which will discuss the deteriorating security situation in Afghanistan. The latest official reports indicate that government forces have control of only two-thirds of the territory, while the US military in September reported the terrorist group controlling no less than 10 percent, but eyeing a major expansion.
The Brussels meeting is likely to result in billions of dollars more in funding for government forces over the next four years. It also comes on the heels of a report exposing American misspending in the country. The report by the Special Inspector General for Afghanistan Reconstruction (SIGAR) examines widespread corruption and a failure by the US to recognize the problem.

According to SIGAR, more than $113 billion has been spent on reconstruction since 2002, on things like good governance, development assistance, and security operations. The report found that corruption only expanded as more money was injected into the economy, empowering private interests.
READ MORE: Corruption and waste in Afghanistan: Role of US gov't exposed in new report

The Kunduz attack and the conference also come amid a strong resurgence in Taliban activity, marked by devastating attacks, such as the two on September 5 – a massive twin blast and a suicide car bombing – both within hours of each other. Over 30 people were killed that day, with nearly 100 suffering injuries.
And in late August, a suicide bombing at the American University in Kabul claimed 13 lives.
This year, the Taliban appears to be trying to repeat the military success of 2015, which saw Kunduz fall into their hands not long after the massive withdrawal of Western-backed international forces at the end of 2014.
Gaining entry into provincial capitals is a big deal in Afghanistan, and Monday's attack in the north is not the only cause for concern for the government. Earlier on September 8, the southern province of Uruzgun saw a raid on its capital, Tarin Kot. According to Reuters, a government investigation into the September 8 attack was still asking questions this Monday as to how over 100 police checkpoints were abandoned without a single bullet being fired by the police.
Last year's capture of Kunduz became known as the Taliban's biggest military success since 2001. On October 3 that year, the US decided to mount an attack on the city. It was later clear from a US report that the entire city had been treated as "hostile," according to MSF (Doctors Without Borders) Country Representative, Guilhem Molinie. This resulted in a devastating bombing of an MSF hospital by Washington, killing 42 people and three children.
You can share this story on social media: