Suicide car bombing rocks Kabul hours after deadly twin blasts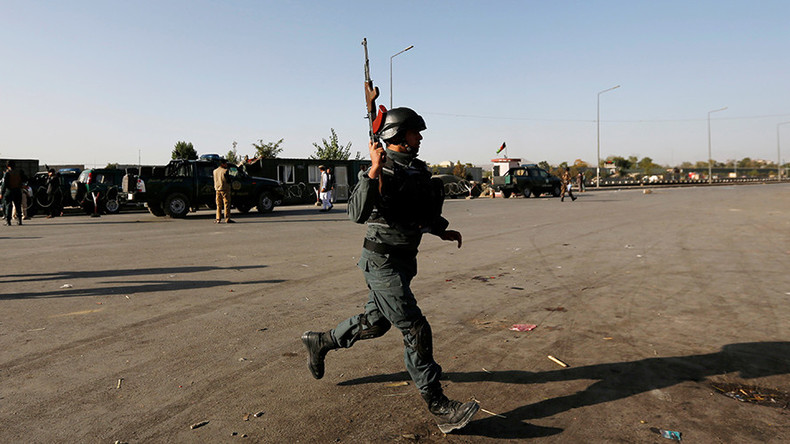 A massive blast caused by a suicide car bomber hit Kabul late Monday - just hours after two deadly bombs went off near the Afghan Defense Ministry. The latest explosion was followed by gunfire, the Interior Ministry reports.
UPDATE: Car bomb targets NGO in Kabul, 2 terrorists break into building
According to the Interior Ministry spokesperson Sediq Sediqqi, a suicide car bomber triggered the explosion, as cited by AP.
The official went on to say that the actual target of the attack was so far unclear.
Following the blast, two more assailants started shooting and entered one of the buildings located nearby.
Police believe the building to be a guest house that hosts foreigners and diplomats.
According to news outlet TOLO, the blast happened in the upscale Share Naw neighborhood, where the Interior Ministry is located.
The latest violence came just hours after twin bombings hit the crowded area near the Defense Ministry in Kabul.
The local media outlet Tolo News, citing an Interior Ministry spokesperson, put the number of dead at over 30. A district police chief and five officers were among the dead, AP reported, citing Interior Ministry spokesman Sediq Sediqqi. At least 91 suffered injuries as result of the attack, according to the Public Health Ministry spokesman, Ismail Kawasi.
READ MORE: 30 killed, dozens injured in twin blasts near Afghan Defense Ministry – authorities

The Taliban have claimed responsibility for the atrocity.
Just two weeks ago, a suicide attack targeting the American University in Kabul left 13 people dead.
You can share this story on social media: