Hungary set to reject Merkel's refugee quotas in 'existential' referendum
Hungarians are set to overwhelmingly reject Brussels-imposed quotas obliging the country to accommodate asylum seekers from outside Europe in a vote that is not just about specific refugee allocations, but also the general policies of Prime Minister Viktor Orban.
"Do you want the European Union to be able to mandate the obligatory resettlement of non-Hungarian citizens into Hungary even without the approval of the National Assembly?" reads the question put to over 8 million voters during a national referendum on Sunday.
Polls conducted throughout the last month showed that fewer than 10 percent of Hungarians accept the unilateral resettlement of migrants coming through Greece and Italy, which was agreed to by a majority decision of EU foreign ministers a year ago, having been proposed by German Chancellor Angela Merkel. Hungary was one of four countries that rejected the plan to resettle 160,000 migrants, and surveys suggest that at least two-thirds of the decided voters back their government's stance.
READ MORE: Hungary 'militarized borders' to deter refugees, says Amnesty ahead of crucial vote on quotas
Orban's ruling Fidesz party has led the 'No' campaign, supported by the Christian Democrats, and Jobbik, the ultra-nationalist conservative party. The only party openly canvassing for a 'Yes' vote is the pro-EU minnow MLP, which has one national deputy.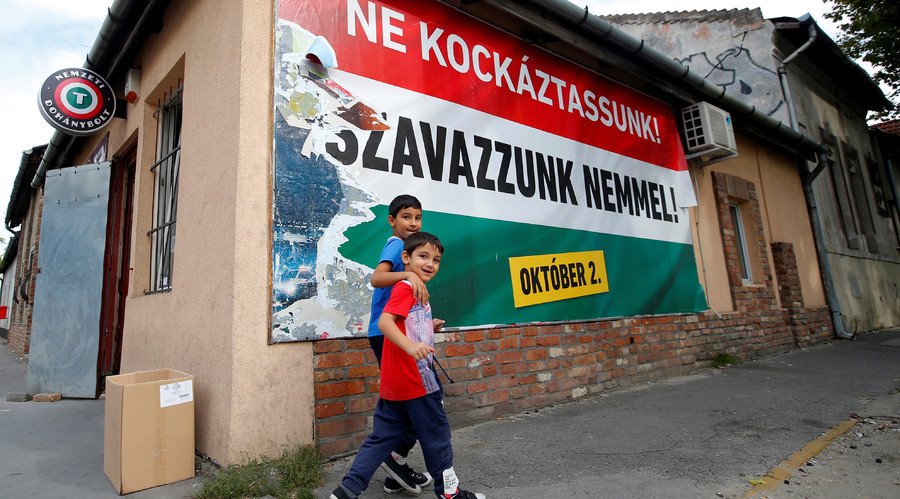 But the result of the referendum is still in the balance – to be declared valid over half of the electorate need to cast their ballots. Rather than try and lead a doomed 'Yes' campaign, several mostly left-wing major opposition parties, have called on voters to ignore the referendum. Predicted turnout is hovering exactly around the 50 percent mark.
"We think it is politically right that this referendum won't be a valid one. This would send a clear message to everyone: that people don't buy this populist game that creates tension," Gyula Molnar, leader of the Hungarian Socialist Party, told Euronews.
By 5.30 p.m. local time 39.88 percent of the voters cast their ballots, and the National Election Commission said that the 50 percent threshold was unlikely to be reached. In a last-ditch attempt to bring voters to the booths, Fidesz fired round after round of text messages to its supporters.
The referendum is non-binding, and even if it were, it would be unlikely to have any immediate implications on asylum policy. Under last year's plan Hungary was slated to take in only 1,294 asylum seekers, and as in almost all countries have stalled on their promise. No asylum seekers have arrived in the country under the plan, and chances are that the resettlement policy may never be executed at all, though the government insists that the referendum applies to any future Brussels schemes too.
Yet the symbolic value of Sunday's vote is paramount to Orban, and the anti-migrant politician has made every effort to secure victory.
According to AP, the government has reportedly spent upwards of $45 million since last December on an "information" campaign that opponents say constitutes xenophobic propaganda. Billboards were plastered over major urban centers with questions such as "Did you know? The Paris terrorist attacks [in November 2015] were carried out by immigrants,""Did you know? Brussels wants the forced resettling of a city's worth of illegal immigrants into Hungary," and "Did you know? Almost one million immigrants want to come to Europe from Libya alone?"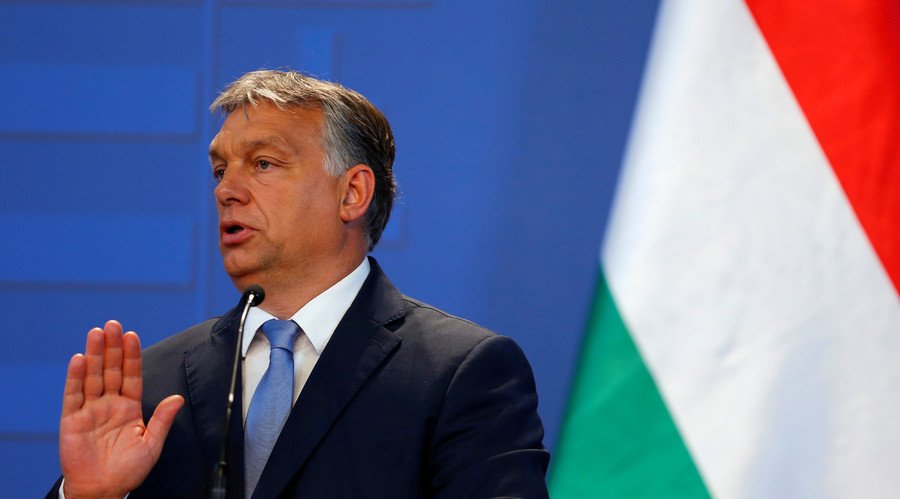 Orban himself, who led his country between 1998 and 2002, and again since 2010, told the Budapest Post this week that the country is facing an "existential decision."
"We must protect ourselves against terrorism, against crime, and against migrants who ruin our social system, who present an economic burden, who are from alien cultures, and who are unable to assimilate. The decisions which are existentially important for us must be made by ourselves alone, and we cannot afford to allow others elsewhere to make those decisions affecting us," said the 53-year-old politician, specifically referencing Muslims, as those with most incompatible value systems.
"I think that people understand and feel that this is something which will decide the fate of Hungary, and also perhaps Europe. A change of civilization is like the apocryphal frog being slowly cooked alive in water which is gradually being heated to boiling point."
READ MORE: Hungary's Orban: Send illegal immigrants to non-EU camps 'on island or in North Africa'
The 2011 census revealed that there were only 5,600 Muslims in Hungary, but since the start of last year the country received over 200,000 asylum application, predominantly from those escaping Muslim states. Fewer than 880 people have been given at least temporary legal asylum.
In recent months, the reported throughflows of immigrants have dwindled to about 30 a day, partly due to an overall decrease in arrivals, but also a border wall that was constructed last year at the orders of the government.
You can share this story on social media: