Stolen Van Gogh paintings found in Italian drug lord's house 14 years after heist
Published time: 30 Sep, 2016 13:53
Edited time: 1 Oct, 2016 17:52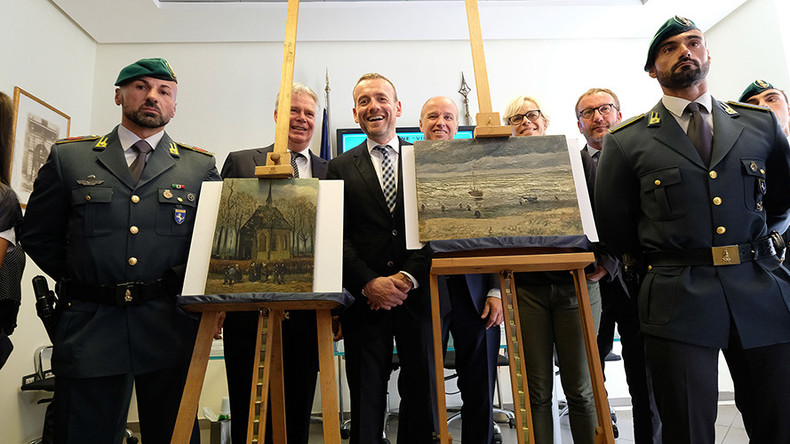 A sting operation targeting organized crime in Naples, Italy, has recovered two Vincent van Gogh paintings that were stolen in 2002 in one of the most infamous heists the art world has seen in recent years.
Fourteen years ago in a move akin to something out of a Hollywood blockbuster, thieves entered the Van Gogh museum in Amsterdam from the roof, avoiding security and cameras.
Two years later, two men – Octave Durham, an art thief who earned the nickname 'The Monkey' for his evasiveness, and his accomplice, Henk Bieslijn – were convicted with four-year sentences, but the priceless art was never recovered – until now.
Two Van Gogh paintings were allegedly hidden in one of the houses of an international drug trafficker based in Castellamare di Stabia, near Naples.
The paintings were identified as View of the Sea at Scheveningen (1882), and the Congregation Leaving the Reformed Church in Nuenen (1884). The authenticity of the paintings has already been confirmed by a Van Gogh expert from the Van Gogh Museum.
"The paintings have been found! That I would be able to ever pronounce these words is something I had no longer dared to hope for. It is not yet certain when the works will come back to Amsterdam. But I fully believe that we can, once more, count on the unconditional support of the Italian authorities." Axel Rüger, director of the Van Gogh Museum, said at a press conference in Naples.
The masterpieces were recovered during a sting operation by the Italian police that clamped down on the heads of an organized crime group called Camorra.
"A remarkable recovery that confirms the strength of the Italian system in the fight against illicit trafficking of art," the Italian Minister of cultural heritage and activities and tourism, Dario Franceschini, commented in Italian media.
Camorra – one of the oldest and largest criminal organizations in Italy, dating back to the 16th century – is a mafia-type organized crime group with roots in Naples.
Italian investigative authorities told Ansa news agency that the paintings were worth nearly $100 million dollars.
Both paintings are said to have undergone slight damage, but nothing too severe.
With only about 5 percent of stolen art eventually found, RT looks back at other recovery stories: