1 in 10 children carry immunity to AIDS - study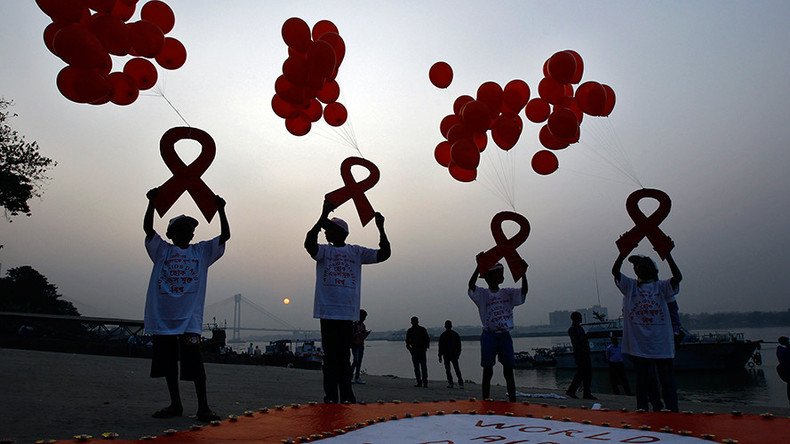 One in ten children possess a rare "monkey-like" genetic system that makes them immune to developing AIDS, a new study has revealed.
The study published in Science Translational Medicine found that 60 percent of HIV infected children who go untreated will die within two and a half years, but monkeys infected with the HIV equivalent, "simian immunodeficiency virus" (SIV), will live.
They found the children carried thousands of human immunodeficiency viruses in every millilitre of their blood. However, despite the high volume of the virus in their blood, the patients' immune system showed no sign of increased activity and resisted the spread of the disease.
Researchers analyzed blood samples from 170 HIV-infected children in South Africa, none of whom had received any antiviral treatment or yet developed Aids.
READ MORE: Gay & bisexual N. Ireland men now allowed to give blood, but only 12 months after sex
The children are known as "paediatric non-progressors" (PNPs). A small number of adults (-0.3 percent) known as "elite controllers" have a similar type of immunity but they typically exhibit low viral loads, whereas the children had high loads.
The new research on children's natural immune mechanisms could help future studies into HIV treatments and "may be a prerequisite to elimination of HIV infection," according to lead author of the study, Philip Goulder.
"Further research is needed to establish the exact mechanism in children. That will give us more information about how HIV disease develops and may give us treatment approaches that block the pathway between HIV infection and HIV disease," Goulder told the IBTimes.
READ MORE: UN urges 'immediate action' to curb spread of HIV with 2mn new cases annually
In 2015, 36.7 million people worldwide were living with HIV and 1.1 million people died from Aids. Around 2.1 million people were newly infected last year alone, which averages at about 240 people every hour, according to amfAR.
HIV Plus magazine suggests that an AIDS resistant genetic mutation may be inherited from ancestors who survived the Bubonic plague or 'Black Death' that swept through Europe, Asia and Africa in the 14th century, killing an estimated 50 million people.
"Those lucky enough to be resistant must inherit the HIV-shielding genes from both parents, though having only one parent with the mutation still leaves a child better prepared to defend HIV than having none," according to HIV Plus.
You can share this story on social media: