Lithuania aims to spend $115m on air-defense system amid NATO build-up in Eastern Europe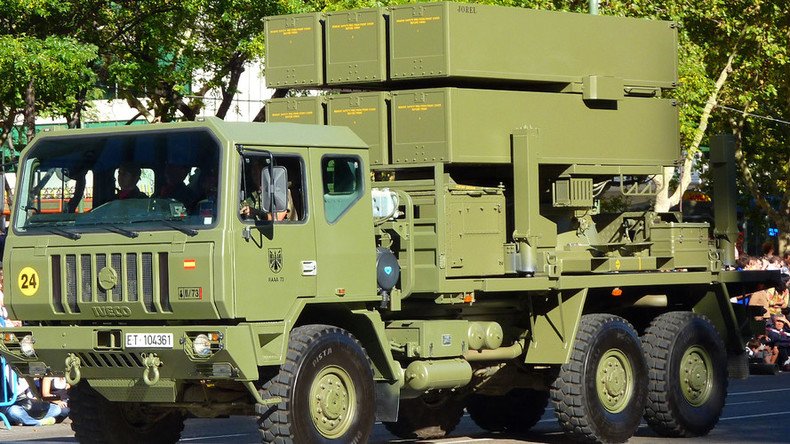 Lithuania plans to spend more than 100 million euros ($112 million) on the Norwegian- American air defense system – NASAMS, the country's defense minister told local media. It is set to become the first shield of its kind on NATO's eastern flank.
The medium-range NASAMS systems (National Advanced Surface-to-Air Missile System) – the brainchild of Norway's Kongsberg Gruppen and US defense contractor Raytheo – would cost up to 100 million euros, Lithuanian Defense Minister Juozas Olekas told BNS.
Two of the country armed force's batteries would be equipped with the NASAMS systems, according to information provided to BNS by the ministry.
The start of talks between Lithuania and Norway on acquiring the system was announced in May.The talks are reportedly centered on the NASAMS-2 (National Advanced Surface-to-Air Missile System 2) – a joint project of the Norwegian company Kongsberg Defence & Aerospace and US Raytheon. The range of the surface-launched missiles used by NASAMS is reportedly over 15 kilometers (9.3 miles).
NASAMS systems are currently in operation in the US, Norway, Spain, Chile, Finland and the Netherlands.
This comes amid escalating tensions between the 28-member NATO alliance and Moscow following the conflict in eastern Ukraine in 2014.
On June 14, NATO agreed to deploy a new 4,000-strong force in the Baltic States and Poland in addition to the over 1,000 soldiers already stationed there on a rotational basis.
At a summit in Split, Croatia earlier this month, Czech Army Gen. Petr Pavel said that four battle groups will be sent to the region at different times in the first half of 2017.
"With these four battle groups, we are not talking exclusively about a training presence," the Wall Street Journal (WSJ) quoted him as saying.
"This force is to serve as a deterrent and if necessary as a fighting force. The rules will be different," Pavel, who leads the NATO military committee, added.
Some of the troops participating in the deterrent force have been training at the US Army facility in Grafenwoehr, Germany, the WSJ reported.
US officials told the publication that some 1,000 US soldiers will come from the 2nd Cavalry Regiment based in Vilseck, Germany, and are due to arrive in Poland by April. In addition to the US contingent that will be sent to Poland, Germany will send forces to Lithuania. Canada is expected to offer troops to Latvia, while the UK will deploy a battle group to Estonia. Norway, Denmark and France will be supplementing those forces.
As top NATO commander, US Army Gen. Curtis M. Scaparrotti, noted in mid-September, NATO needs to approach Russia from a "position of strength."
Russia has long criticized NATO's military buildup, calling it a threat to its national security and stability in Europe.
READ MORE: Russian drill calls for 'NATO' soldiers 'to lay down arms, stop being pawns'
NATO activity on Russia's doorstep has "more than doubled" recently, forcing Moscow to take retaliatory measures. "Now NATO and the US have deployed about 1,200 pieces of military equipment, including 30 combat jets, as well as more than 1,000 soldiers on the territories of the Eastern European countries on a rotational basis. The US Navy ships as well as military vessels of other NATO members regularly enter the Baltic and Black Seas," Russian Defense Minister Sergey Shoigu said in late June, adding that the deployment of US anti-missile defense systems (ABM) in Eastern Europe is a source of particular concern for the Russian military.
Among other things, NATO has been busy modernizing and upgrading various military facilities in Poland, Romania, Bulgaria and the Baltic States to bring them up to NATO standards, Shoigu said.
You can share this story on social media: