NATO activity on Russian borders 'doubled,' provoking Moscow's response – Russian Defense Ministry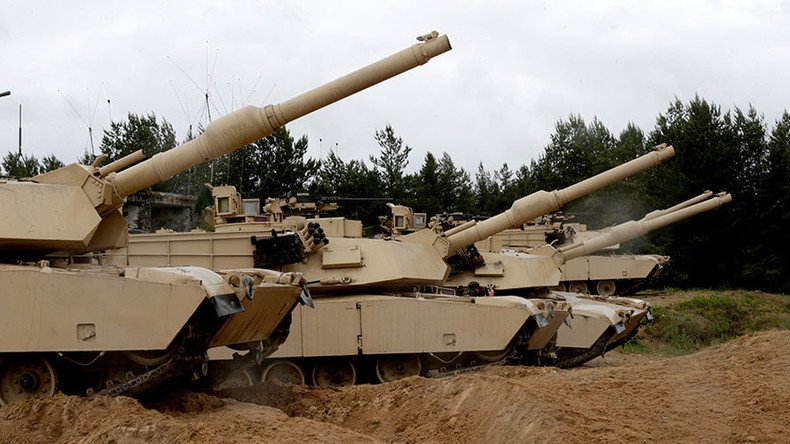 NATO activity on Russia's doorstep has "more than doubled" recently, forcing Russia to take retaliatory measures, Russian Defense Minister Sergey Shoigu said.
"Now NATO and the US have deployed about 1,200 pieces of military equipment, including 30 combat jets, as well as more than 1,000 soldiers on the territories of the Eastern European countries on a rotational basis. The US navy ships as well as military vessels of other NATO members regularly enter the Baltic and Black Seas," Shoigu said Wednesday at the session of the Russian Defense Ministry Board that comprises Russia's top military command, according to a statement from the Defense Ministry.
He added that NATO also continues to modernize and upgrade various military facilities in Poland, Romania, Bulgaria and the Baltic States to bring them up to NATO standards.
The deployment of the US anti-missile defense systems (ABM) in Eastern Europe is a source of particular concern for the Russian military, the minister said at the meeting, which was dedicated to planning and development of Russia's western military district.
"On May 12, an Aegis Ashore anti-missile defense complex became operational in Romania," Shoigu said, stressing that this complex can be used to launch Tomahawk missiles and adding that construction of another such ABM site continues in Poland.
The minister also warned that, after the Warsaw summit that will be held on July 8-9, NATO can "significantly increase" its presence and activity near the Russian borders.
"Such moves of our western colleagues lead to erosion of the strategic stability in Europe and force us to take counter measures, primarily in the western theater of operations," Shoigu said, stressing that Russia takes actions aimed at strategic deterrence in the western military district to "neutralize potential threats."
Special attention is paid to the issue of supplying the troops deployed in the district with modern weapons as well as military and specialized equipment. "This year, more than 2,000 pieces of new and modernized military equipment will enter operational service [within the units of] the western military district," Shoigu announced.
The minister also added that 10,000 contract soldiers have been recruited to the armed forces while the construction of 10 modern garrison towns is almost finished. In April, a new army corps was formed within Russia's Baltic Fleet, which received two new warships, six motor boats, new multiple rocket launcher and air defense systems in the last three years, the ministry's statement says.
Shoigu also emphasized that Russia recently also intensified its military drills. More than 300 operational and battle exercises as well as joint force grouping drills were staged last winter, he said, adding that, during the drills, the troops used combat experience that Russian forces gained during the anti-terrorist operation in Syria.
Russia also held a number of international command staff exercises in cooperation with Belarus during that period. Now Russia is preparing to host massive command staff exercises of the Collective Rapid Reaction Forces of the Collective Security Treaty Organization (CSTO) that will involve troops from Russia, Belarus, Kirgizia, Armenia, Kazakhstan and Tajikistan.
The drills, named "Cooperation-2016," are due to take place in western Russia in August. "Such close cooperation will promote coordination of collective actions aimed at providing collective security," Shoigu stressed in his speech at the Defense Ministry Board meeting.
The meeting of the Russian top military command comes just a day after Russian President Vladimir Putin promised to strengthen and modernize Russian armed forces in response to foreign pressure.
He stressed that "army and navy" are a guarantee of Russia's sovereignty and "a weighty argument against any attempts to provoke us, against blackmail or pressure on our country," as he spoke at the he ceremony for distinguished graduates of Russian military and law enforcement schools.
Russia has repeatedly criticized the NATO buildup on its borders, stressing that it undermines security and stability in the region. Russian officials also accused NATO of deliberately portraying Russia as a threat to justify its actions and huge military spending.
On June 16, Russian Defense Ministry spokesman Igor Konashenkov blasted NATO for "intentionally creating panic and maintaining the image of a treacherous enemy."
On June 14, NATO agreed to deploy a new 4,000-strong force in the Baltic States and Poland in addition to more than 1,000 soldiers already stationed there on a rotational basis.
You can share this story on social media: