NATO aims to feed fears by painting Russia as 'treacherous enemy' – Russian Defense Ministry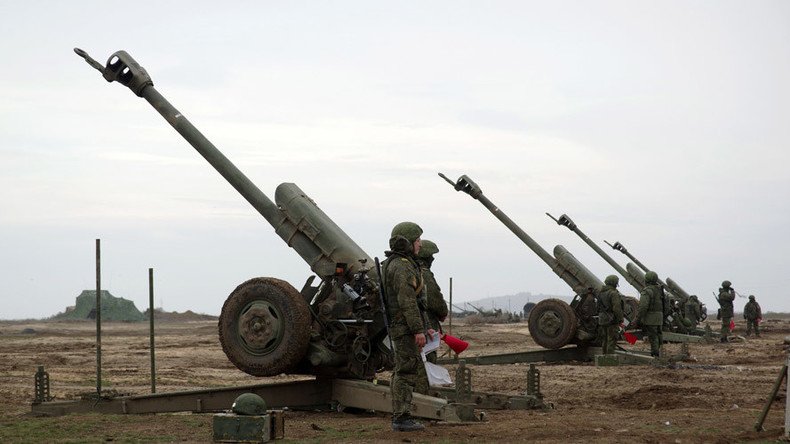 Russia's Defense Ministry has rejected allegations from NATO accusing Moscow of thwarting military transparency in Europe by holding an "unexpected" military exercise. The ministry blamed the block for deliberately creating the perception of a "Russian threat."
"Not a single action within the military training of the Russian Army, including an expected operability test, violates international agreements and treaties, according to which Russia must provide information on its military activities where measures on enhancing confidence and security are being applied," Defense Ministry spokesman Igor Konashenkov told journalists on Wednesday.
The military official added that, although such international agreements do not apply to the operability test launched by Moscow on Tuesday, the Russian side had actually provided military attaches and the Organization for Security and Cooperation in Europe (OSCE) with relevant information as a gesture "of good will." Earlier in June, Russia's Defense Minister Sergey Shoigu also warned that such military tests would be taking place. On Tuesday, he gave notice that this particular training operation is expected to last until June 22.

"Yet, as at most times, our foreign colleagues didn't want to notice it again, choosing to play their anti-Russian part," Konashenkov said, adding that the accusations come as no surprise in light of the upcoming NATO summit to be held in Poland next month.

READ MORE: Russia to counter NATO buildup in Eastern Europe – Duma official

"The real aim of allegations about the Russian military threat is to intentionally create panic and maintain the image of a treacherous enemy, fighting which can provide colossal military budgets," Konashenkov said.

While addressing the block's defense ministers in Brussels, NATO Secretary General Jens Stoltenberg accused Russia of breaching military transparency and foreseeability on the continent.
Earlier, defense ministers from the 28 NATO member states approved the deployment of battalions in the three Baltic states and Poland, in what the alliance claims to be an effort to deter Russian aggression. The Western bloc also discussed ways of building up its presence in the Black Sea.

Moscow is being forced into a confrontation with the West, Russia's Foreign Minister Sergey Lavrov said on Wednesday, adding that, for its part, Russia is making every effort to avoid conflicts with the US, NATO, and the EU.

READ MORE: Moscow calls NATO buildup in E. Europe 'unjustified' as largest drills since Cold War kick off

"[Such] geopolitical games will have no result and only hamper efforts to provide stable world development, and will only succeed in generating crises like the one in Ukraine," Lavrov said while addressing Russian lawmakers. Russia is forced to stick up for its national interests in the face anti-Russia rhetoric from Washington and its allies, which is not unsimilar to that of the Cold War, the diplomat said.

Relations between NATO and Moscow deteriorated in March of 2014, following Russia's reunification with Crimea, as well as the crisis in Ukraine. At the same time, while constantly accusing Moscow of "aggression," the military bloc wants to continue dialogue with Moscow, with some of its members openly admitting that security cannot be achieved on the continent without Russia.

Europe is not interested in NATO activities directed against Moscow, German Foreign Ministry spokewoman Sawsan Chebli told reporters on Wednesday. "Everyone should understand that if we want security on this continent, we cannot achieve it [being] against Russia, but only together," she said.
You can share this story on social media: