'Child pornography': US photographer's exhibition in Moscow closes after controversy, protests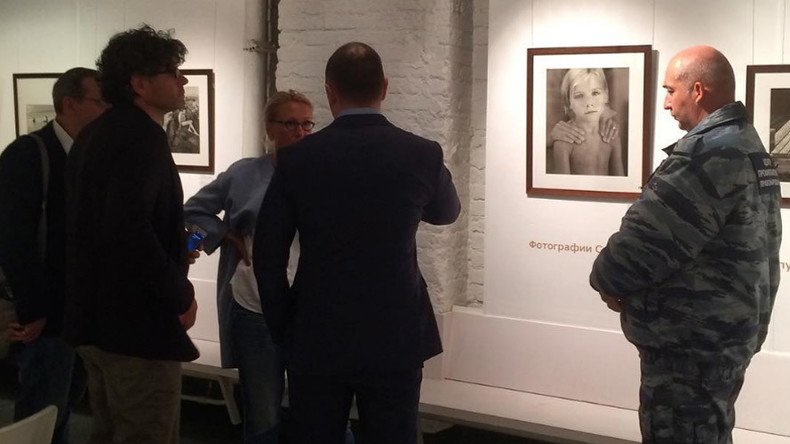 An exhibition by US photographer Jock Sturges, best known for his works featuring teenage nudity, has been shut down in Moscow after some protesters blocked the venue and accused the artist of shooting child pornography.
Camouflaged men, representing the NGO Officers of Russia, turned up at the Lumiere Brothers Center for Photography on Sunday afternoon. They blocked the entrance to the building, saying they were going to evaluate the contents of the exhibition for "pedophilic" contents.
Earlier, a man made it to into the building posing as a journalist and sprayed several of Sturges's works with a mix of urine and acetone. The perpetrator was detained and charged with hooliganism.

After negotiations with the activists, the Lumiere Brothers Center decided to close the controversial exhibition.
"We have agreed with the Centre that they'll meet our demands and close the exhibition," Anton Tsvetkov, the head of the NGO, told TASS.

Sturges made a name for himself with his photoshoots of adolescents and their families, often posing nude. His works are not without controversy back at home, but a number of attempts to block his printed photo collections through the courts have failed.

The Moscow exhibition, titled "Absence of Shame," was under way since September 8, but it made headlines in Russia only this week after bloggers attracted public attention to the photographer's most controversial works featuring nude minors. Sturges has been taking photos of some of his female models since they were aged three.
Indeed, a representative of Officers of Russia, who examined the exhibition, confirmed that "the photographs, which were the subject of discussions on the internet weren't there." However, he then added that some 15 percent of works were not "straightforward" and contained "images of semi-naked children."
Following a public outcry, prominent Russian legislator Elena Mizulina urged that the exhibition be closed at once, while the newly appointed children's ombudsman, Anna Kuznetsova, initiated the prosecution's inspection of the display. Kuznetsova, who is an Orthodox Christian, a psychologist and a mother of six, also called the exhibition "chilling."
Meanwhile, in Russian blogs and on social media, battles were raging in the comment section between some more conservative critics and those who supported the display.
Sturges himself reacted by saying he was "sad" at the news of the exhibition closing, noting that it has been the first time in years of doing exhibitions abroad that he has been faced with such an incident.

The 69-year-old photographer has been in hot water over his works in the past. In the early 1990s, his San Francisco studio was raided by FBI officers, who seized his equipment, but eventually pressed no charges against Sturges. In 1998, Alabama and Tennessee made fruitless attempts for his new book to be classified as child pornography.
You can share this story on social media: