Budapest explosion: Attempted homicide against police officers, manhunt underway – prosecutor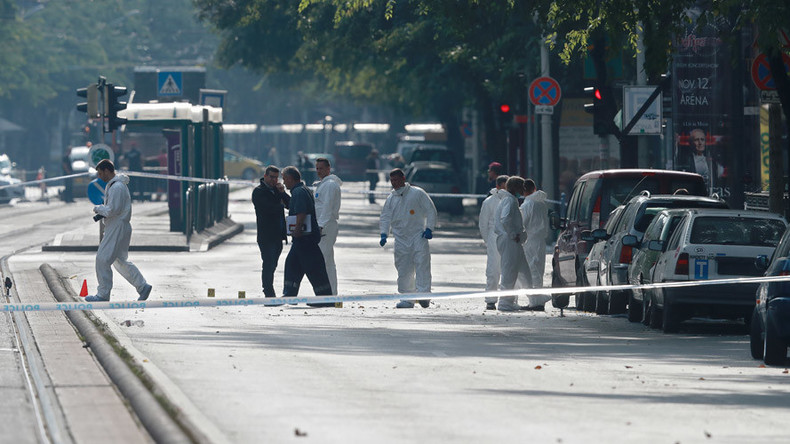 The explosion that left two officers injured in Budapest late Saturday specifically targeted police forces, Hungary's national police chief, Karoly Papp, said at a press conference. He added that the man behind the blast is still at large.
Papp told Hungarian media that he has "no doubt" that police officers were explicit targets of the Saturday blast, adding that the alleged perpetrator was planning to "execute" the officers.
At the same time, the police chief did not confirm that the explosion was somehow related to terrorist activities, but stressed that all possible motives are still being considered at the current stage of the investigation.
Papp also said that police have been patrolling the area where the explosion occurred for the past 18 months. The route and the timing of the foot patrol were set, and the officers who were caught in the blast were not in the area merely by accident or out of coincidence.
The police chief also said that there was no proof that a specific police officer was targeted in the attack.
Police are now examining the footage from 145 CCTV cameras, Papp said, adding that several hundreds of police officers are also engaged in the manhunt for the suspected attacker. The police are offering 10 million forints ($37,000) for any information that leads to the arrest of the perpetrator.
According to police, the alleged perpetrator is a man in his early to mid-twenties and is approximately 170 centimeters tall. He was wearing a light-colored fisherman's hat, a dark jacket, blue jeans and running shoes. No photo or composite sketch of the suspect have been released so far.
The attacker detonated an improvised explosive device filled with nails on the ground floor of a store at the corner of Kiraly Utca (King Street) as police officers were passing by late on Saturday. A female officer sustained life-threatening injuries and remains in intensive care.
A male officer was also severely injured but is now in stable condition, Hungarian media report.
You can share this story on social media: