US to hold joint drills with Philippines despite Duterte's scandalous outbursts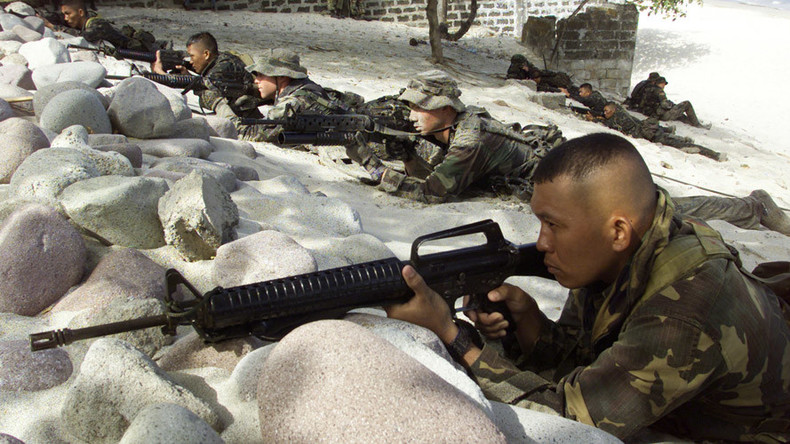 The Philippines military will hold its first military drills with US forces under President Rodrigo Duterte, who earlier made offensive remarks about Barack Obama and called for American Special Forces to be kicked out from the country.
The exercise is scheduled to take place from October 4 -12 on the Filipino islands of Luzon and Palawan, with the latter located near the disputed Spratly Islands in the South China Sea.
According to the US embassy in Manila, the initiative to invite the US troops to take part in the 33rd Philippines Amphibious Landing Exercise (PHIBLEX 33) came from the military of the Philippines and was welcomed by the American side.
"The opportunity to train and build mutually beneficial capabilities with our Armed Forces of the Philippines partners is essential for sharpening our bilateral amphibious and humanitarian assistance capabilities, both hallmarks of the US Marine Corps" Brig. Gen. John M. Jansen, commander of the US 3rd Marine Expeditionary Brigade, said.
"Exchanging expertise and cultivating our longstanding security alliance provides a cornerstone for security and stability in the region, and has for decades," he added.
A total of 1,400 US soldiers stationed in Okinawa in Japan, and 500 Philippine troops will take part in an amphibious landing exercise, live-fire training and humanitarian assistance efforts as part of PHIBLEX 33.
The humanitarian part of the drills will begin in September and include projects aimed at boosting infrastructure and health care in the Philippines.
Earlier in September, Duterte called Barack Obama a "son of a b****," warning the US president against lecturing him over the Philippines' human rights record in its brutal war on drugs that allegedly claimed around 3,000 lives. However, he later denied having made that statement.
He has not backed down regarding his calls for US Special Forces to be removed from the Filipino island of Mindanao where Washington has been helping the country's government to fight Islamist militants.
That statement, however, was later downplayed by a presidential spokesman, who said the policy was not set in stone.
US Special Forces have remained on the island from 2002, while the number of troops reached 1,200 at one point. However, only a small contingent remains, with the vast majority of soldiers having already been removed.
READ MORE: 'We'll never have peace': Philippines leader Duterte wants to boot US troops out of country's south
Last week, Duterte also said that he seeks peace and not confrontation with Beijing over the territorial disputes in the South China Sea.
The US and its regional allies, including Japan and the Philippines, strongly object Beijing's claims that it controls around 90 percent of the South China Sea. The area is economically important and sees more than $5 trillion in trade pass through its waters every year.
In July, an arbitration court in The Hague ruled in favor of a Philippines petition against China's claim on a large part of the sea. However, Beijing decried the ruling "null and void".
READ MORE: Philippines leader calls Obama 'son of a b****,' rejects lecturing from US on human rights
Washington has opted to largely ignore Duterte's outbursts, with Obama saying that the Philippines remain an important US ally.
You can share this story on social media: