Austrian town enforces curfew on underage migrants after wave of sexual attacks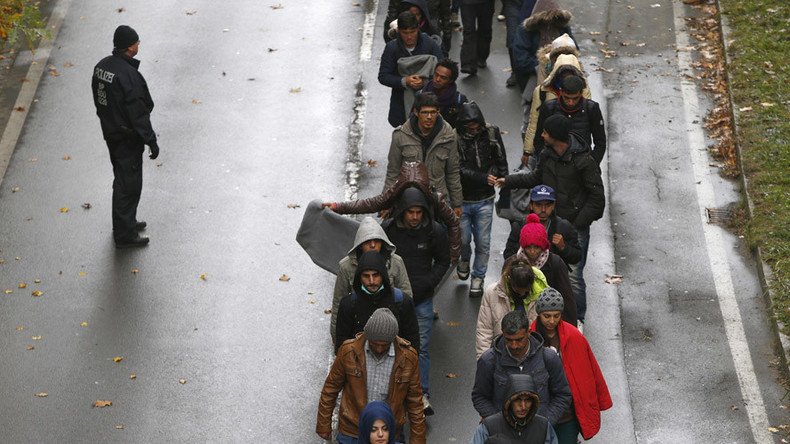 Authorities in the northern Austrian city of Wels have imposed a curfew on young migrants following a series of sexual assaults at a local wine and beer festival in early September, which were committed by Afghan minors.
Underage refugees living in the town of Wels are now allowed to leave their places of residence only until 8:00pm local time, the town's mayor, Andreas Rabl, told RT, confirming information about the curfew. He also added that the migrants would face "strict sanctions if they break these rules."
The move comes after underage asylum seekers from Afghanistan assaulted more than a dozen women at town festival called Welser Volksfest that was held between September 2 and September 11.
On September 4, five migrants from Afghanistan were detained over sexually harassing women during the festival after eight women reported sexual assaults to police.
Following the incident, Andreas Rabl demanded "zero tolerance" for such cases in a post on his Facebook page.
By the end of the festival, the number of sexual assaults had increased to 17, prompting a strict response from the authorities.
"We had the problem that the female visitors of the festival being the victims of sexual assaults. 17 women in the age between 18 and 50 years were abused during the festival in Wels. Their abusers were refugees from Afghanistan and these refugees were in the age between 15 and 16," the mayor told RT, adding that one more assailant was 23 years old.
The mayor also said that the number of sexual attacks in his town is constantly growing, stressing that there had been 193 such complaints since the beginning of the year by August.
Rabl also said that the town authorities plan to implement additional security measures to tackle the issue "in the long term", including increasing the number of police officers and the coordination between private security and police forces.
He also announced plans to set up surveillance cameras at festivals and in the town as well as to deploy more police officers in plain clothes at future public events.
At the same time, he stressed that Austria should conduct tougher refugee and migration policies to tackle this issue alongside other security threats that could be potentially posed by uncontrolled migrant influx.
"We have to make stricter rules for immigration in Austria and… to exercise stricter control over our borders," Rabl told RT, adding that it makes "no sense when everybody can come here and we do not know who is coming."
The incidents in Wels are just the latest in a series of similar attacks that became increasingly common amid the ongoing refugee crisis. On September 2, just days before the incidents in Wels, four women reported being "groped and sexually assaulted" by men, who were believed to be migrants, in the German city of Essen during a music festival.
In late August, the biggest Swedish youth festival 'We are Sthlm' witnessed more than a twofold increase in sexual assaults in comparison with the previous year despite extra security measures. Police said that there were 50 reports of sexual assaults at the festival. Most attackers were reportedly migrants from Afghanistan and Morocco.
In June and July, two Swedish music festivals in the towns of Karlstad and Norrloping were marred by waves of sexual assaults allegedly committed by migrants with dozens of woman being molested during both events. Bravalla Festival in Norrkoping witnessed almost 30 assaults, including five rapes, in early July while Putte i Parken (Party in the Park) music festival in Karlstad saw 32 similar attacks a week earlier.
In May, 18 women reported sexual attacks at a music festival in the German city of Darmstadt. Three men from Pakistan aged between 28 and 31 were detained over the incident.
The most striking case of sexual harassment by refugees occurred in Germany on New Year's Eve last year. At that time, hundreds of women said they were harassed by attackers of "North African or Middle Eastern appearances" on 2016 New Year's Eve near the central railway station in Cologne. Similar cases were also reported in other German cities.
According to the latest figures, published by Die Welt, police registered over 1,200 legal complaints, with at least half of them citing sexual assaults. Law enforcers identified 281 suspects, mostly coming from Tunisia, Morocco, Syria and other Arab countries.
The wave of sexual attacks in Cologne provoked a massive public outrage and led to the adoption of a tougher new law on sex offenses in Germany that made any form of non-consensual sexual contact a crime and eased the deportation procedure for migrants involved in sex assaults.
At the same time, some experts say that the issue is deliberately exaggerated and used by far right political forces "to ramp up the rhetoric against the migrants."
"We know from the European statistics in Britain and elsewhere across Europe that 90 percent of cases involve violence against women being done by people they know. That is not an issue that exclusively relates to migrants or refugees, who are coming," Mo Ansar, a political commentator told RT, commenting on the issue.
He also added that the issue of "European women… who are being somehow molested and raped and abused by incoming migrants" has become "one of the key elements" that far right groups, particularly in Austria, "are using to increase the marginalization of foreign nationals."
You can share this story on social media: